JANUS STARK Angel In The Flames album review
There's a lot to be said on Angel In The Flames. Each track has its own story to tell and to the listener, they could be interpreted in many ways. Janus Stark has included a fabulous lyric sheet to describe the meaning behind the songs. But I won't give away all the juicy details; you'll have to buy this terrific album to find out for yourself.  With some creative artwork included, the cover is designed by Gizz's talented daughter Astrid.
Janus Stark doesn't mince about as they begin telling you that 'the working people's opinion' hasn't veered much on the Governments rule, since their last album release over 20 years ago. Bouncing right in on point, the ballsy Crucify All leaders gives you a sense of what Angel In The Flames stands for as an album.
Packed with soaring riffs Commodity Awakening is virtually full of raw energy. You'll find yourself captured by its beat, as the kick-ass, gee-tar riffing solos show Janus Stark hitting their punk-rock roots full throttle.
Sounding reminiscent of the Lone-Ranger theme tune, the intro to  Last Exit To Change Your Mind gallops along at a furious pace, with the guitars sounding somewhat metal in style. The song packs a meaningful punch as Gizz makes the point that life is like looking in your rearview mirror, sometimes parts of it are best left far behind you.  On the lyric sheet, he says ''There is no choice but to change. If civilisation is falling towards certain death at an accelerating rate then where else is there to go but to leave civilisation? I don't mean by suicide. That is absolutely NOT what I mean. I mean by leaving it. Letting go."  
Murders Rights Society envelops a heartbreaking realisation, that sugar-coating the truth makes it easier to swallow. But you won't find the dramatic opening on  Dead! Dead! hard to take. As it glides into a smooth American style punk groove, filled with an anthemic beat. This tale tells of an evolving world. As the guitar riffs appear to battle out the meaning of the song lyrics, it makes for an impressive number.
Are you getting it? Remember Def Leppard – Armageddon It.  With a bit of play on style, the rock-orientated Karmageddon has one of the funniest lines I've heard 'When Karmageddon shits on you, I'm sorry I won't have a tissue'. Genius!  Topped off with a great drum solo, Karmageddon takes a big dump on its enemies, ripping out a belter for Janus Stark.
Continuing the punk-rock explosion
Launching itself like a lunatic let loose in the asylum, the chaotic It Can Be Tough Up There is as frantic as the lyrics. Legendary UK Subs frontman Charlie Harper makes an appearance on backing vocals and his harmonica playing is as distinctive as a smash to the face!
Slowing down the pace on Some Stars Never Fade. This rocky-melodic ballad is a yarn of lost love and suffering. You know the kind Romeo and Juliet had, but more in the guise of Natural Born Killers Mallory & Mickey.  Listening to the verse you get the gist behind the words, that heartbreak can be good for the soul. As it teaches you to manage pain and managing pain has to be the worst of emotions to deal with. A very deep song but it doesn't leave you drowning.
Taking a trip down memory lane, back to the back streets and the terrace houses where Gizz grew up as a child. He recalls In The Backs as a time when life was simpler for us all. The riff of the guitar sounds like a game of 'tag' with its progressive beat getting faster. Just like the game you played, you raced not to get caught 'out'. I'm sure one of us to this day is still 'it'.
With a heavier dirty gritty sound. Shuffling The Pack is meaner in style, even down to Gizz's gruff vocals. You could almost imagine this one getting play on Planet Rock. Its bluesy solo bursts into flames and gives the song an extra dimension. The track itself suggests you shouldn't fit your life to suit someone else's blueprint by re-arranging your deck of cards to suit.
A lyrical bogeyman of a song. Those Who Realise was apparently based on tracing your family tree and unearthing past secrets. Gizz references  'Stop answering a question with a question! Give us some bloody answers!' The irony is you don't really get an answer as to what this song is about which makes it an interesting listen; I guess I didn't realise.
Filled with punk panache and straight-up attitude A Traitors Call closes the album. And what more do you need? This has to be one of my favourites on Angel in the Flames.
Angel in The Flames is a passionate album, it's essence is born of lessons learnt from life's mistakes and sugar-coated heartbreak. Based on real-life experiences from the past to the present day! It packs a meaningful punch!
If you like what you've heard you can catch Janus Stark on tour now, see dates below. 
Led by former Prodigy, English Dogs, U.K. Subs and Steve Ignorant guitarist Gizz Butt, Janus Stark return with their second album after a 20-year hiatus. This stunning new album really does set the guitar-led punk-rock world alight, with Gizz's versatility and virtuoso six-string pyrotechnics more aflame and to the fore than ever, with the four-piece band equally on fire, they also have much to say via their thought-provoking socio-political and highly personal lyrical content on an album you'll love and repeatedly play…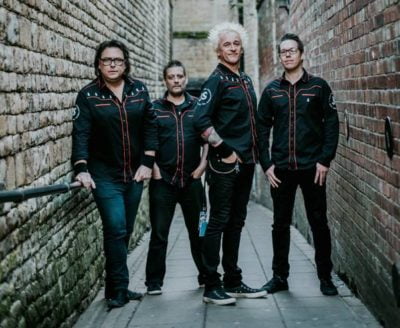 Janus Stark

Gizz Butt – Lead vocals & lead guitar

Richard Gombault – Guitar & vocals

Simon Martin – Bass & vocals

Fozzy – Drums
Purchase Angel In The Flames via Bandcamp https://janusstark.bandcamp.com/
Vinyl: Coloured vinyl with double-sided full-colour insert. The LP also includes a digital download code to redeem via Bandcamp.
CD: The album will be available with a
16-page full-colour booklet.
Digital: The album will also be available to download via
This brand-new Janus Stark album will include a leaflet for the mental health MIND charity's 'Stop Suicide' campaign, and in support of this, Gizz has written a moving essay revealing his own personal struggles with mental health issues to be included as part of the LP insert and CD booklet.
TRACKLISTING:
Crucify All The Leaders
Commodity Awakening
Last Exit To Change Your Mind
Murderers Rights Society
Dead! Dead!
Karmageddon
It Can Be Tough Up There
Some Stars Never Fade
In The Backs
Shuffling The Pack
Those Who Realise
A Traitor's Call
Find Janus Stark at : https://www.facebook.com/JanusStarkBand/
Janus Stark Remaining Tour dates:
Feb 22 Keighley, Exchange Arts Centre
Feb 29 Manchester, Retro Bar 
Mar 14 Northampton, Black Prince
Mar 21 London, Water Rats
Mar 27 Spalding, The Black Swan
Mar 28 Machynileth, Wales, The Red Lion
Apr 3   Stamford, Mama Liz's
Apr 4   Huddersfield, The Parish,
Apr 5   Doncaster, The Leopard
Apr 9   Grimsby, Yardbirds
Apr 10 York, Fulford Arms
Apr 11 Edinburgh, Bannermans
Apr 12 Gateshead, Black Bull
May 2  Bristol (Supporting the UK Subs)
May 30 Lincoln Call of the Wild Fest
Angel in The Flames is a passionate album, it's essence is born of lessons learnt from life's mistakes and sugar-coated heartbreak. Based on real-life experiences from the past to the present day! It packs a meaningful punch!