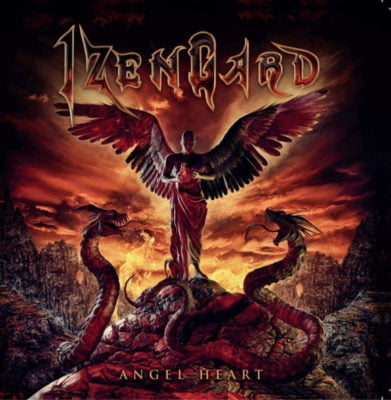 The heart of Izengard beats strong with their latest studio album Angel Heart. Released on Massacre Records, it's a colossal piece of music boosted to great heights by the mixing and mastering of Paul Hume.
'Demon Of The Night' is a gripping opener as sparse chords and keyboards ease in as melodic power metal takes over, bringing to mind 70's era Magnum. A gritty lead vocal from Ian Answorth and soothing backing vocals from Alison Tietze give it an extra edge as a whammy bar guitar solo from Den Tietze cuts through the bombast. 'Heaven's Bleeding' is a song of two halves. An almost spoken word vocal over a lone guitar steps back to let it heavy up into a full on headbanger. 'Loki' certainly puts the pomp in pomp and circumstance as keyboards flow through the verses and jab hard during the call to arms choruses.
'Dances With Dragons' is a ballsy ballad that ebbs and flows on sumptuous grooves. A spotlight stealing vocal for 'Love Never Dies' drives this emotional tour de force that befits the songs title as it wears its heart on its sleeve for a captivating six minutes that briefly gives way for a virtuoso guitar solo midway. 'She Comes Alive' is a symphonic metal bluster as keyboards dazzle backed by strong backing vocals and more guitar wizardry.
'Love Me' got me to expect a ballad but it turns out to be one of the heaviest album tracks. Snappy snare work adds bite to the solid riffing and guitar solos blaze a fiery trail. A solemn two minute guitar and keyboard piece sees 'The Passage (into Angel Heart)' segue into the closing track 'Angel Heart', an eight minute opus of progressive rock at its magical best. Multi tempo changes and Ian's finest vocal means it never outstays its welcome.
Angel Heart album track listing :-
Demon Of The Night.
Heaven's Bleeding.
Loki.
Dances With Dragons.
Love Never Dies.
She Comes Alive.
Love Me.
The Passage (into Angel Heart).
Angel Heart.
Izengard band line up :-
Ian Ainsworth – Lead vocals.
Den Tietze – Guitars.
Alison Tietze – Keyboards/vocals.
Russ Vaughan – Bass guitar/backing vocals.
Gary Reece – Drums/percussion/backing vocals.
Nine songs that will enchant with aplomb.