This furious five piece band came to my attention when they were first band on the New Blood Stage at Bloodstock Open Air Festival 2019, drawing a very impressive crowd at 10.30am on a Saturday morning! Six months on sees Inferiem releasing a brain rattling new single called Burning Gold. Available now for only 79p on all streaming platforms and online stores, it's a mind melting five minutes of music.
An eerie intro builds up into a haunting vocal and scything guitar lines into clubbing grooves backed by caustic howls and death metal lung shredding vocals. Twin guitars weave around pummeling kick drums in the verses as the choruses are more laid back with clean vocals making it a very diverse listening experience and I hope to hear a lot more from this Motherwell based band, formed in 2016, if they keep on coming up with music like this.
Inferiem band line up :-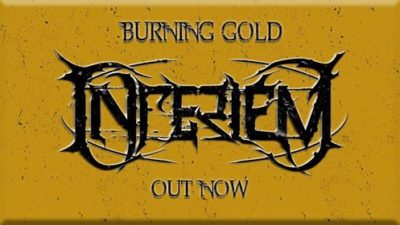 Elliot McQuiston – Bass guitar.
Gordon Bulloch – Drums.
Jonathan Gray – Guitar.
Duncan Law – Guitar.
Stewart McGinty – Vocals.
2020 gets off to a seismic start courtesy of the bludgeoning Burning Gold.