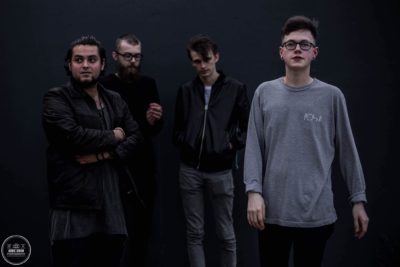 We caught up with Brighton based alt-rockers IDLE CROOKS & ENGLISHMEN (https://www.facebook.com/Idlecrooks ) who are pricking ears with their alluring and hypnotic sound that has already earned the fuzzed-up rock crew favourable descriptors that liken the band to everyone from Royal Blood and The Smashing Pumpkins through to Queens of the Stone Age. IDLE CROOKS & ENGLISHMEN have also dropped a new video for their single, Criminal Song – https://youtu.be/qM2HXdRkEIU  . With all of this in mind, we grilled the guys to find out more about them:
What is the full band line-up, who sings and who plays which instrument?
Tom Hurn – Singer/guitarist, Joe Ottaway – Guitarist/backing vocals, Josh Sayers – Bass, Adam Hall – Drummer.
How and when did the band form?
Growing up, we've always played music together in various school and college bands. When we think about it we've had a similar line up for about 12 years now just under many band names!
Realising we could take this seriously about 17 years old we formed the early stages of Idle Crooks. It started like most bands do, writing songs in bedrooms and attics at too high a volume for our own good. When we were younger, we actually got a noise complaint from house 4 when we were in 123 which is worrying. We were inspired by our favourite bands and their own early beginnings and local bands playing in Brighton to.
We ventured down to Brighton playing gigs and began developing our own following and hoped to fulfil dreams we have always had. By 2019 we've released an EP, I Feel You Should Be More Dangerous, gone on two UK tours, built up a following and received multiple plays and replays on radios such as BBC Introducing. The future is just as exciting for us as we are supporting our release on an upcoming tour and have further releases planned in 2020.
When and how did the band really start gelling and solidifying?
Like we said with being close friends, we have really gelled from early on. Which I think has been really important within this band. We understand each other and connect well musically. The first time we went out touring was a test to see how our friendship would do on the road. But not surprisingly it was great, we had an amazing time and created this hunger for playing and touring as much as possible.
Who are your musical influences?
There are so many to choose from. Tom would say Nick Cave, Jeff Buckley, Led Zeppelin and The Beatles but we are driven by guitar music. Groups like Royal Blood, Demob Happy, Smashing Pumpkins and Queens of The Stone Age have really shaped our sound. We went to see Nothing But Thieves at Alexandra Palace and that was great experience to have together, it was inspiring to see a band achieve something as special as that show.
Where did the name of the band come from?
We were watching a film called 'Mad Dogs and Englishmen' and have always been fascinated with the name. The Englishmen bit was the most appealing and we just liked the name Idle Crooks so we decided to join them. The words idle and crooks are meant to clash but somehow really seem to work and complement each other. There isn't a huge story to it, but we like the way it looks and sounds, also people seem to compliment it which is nice!
If a deaf person were to ask you to describe the sound of your music, how
would you describe it?
We like to describe our sound as dirty rock; however, we are inspired by and like the umbrellas of alt rock, stoner rock and indie rock. I think our focus on riff writing leans us to the appeal of dirty rock, it has an essence of character that we are in to. We like to go full out with the riffs but have subtle moments of ambience and focus on the voice. For Tom, storytelling is a big part of the song and we try and focus the music in the same direction.
Do you have a tour on the horizon?
Our next tour is set for late October. Supporting our upcoming release of 'Criminal Song', the dates are set for the 23rd of October to the 3rd of December, a two-week tour. We plan for this tour to be bigger than anything we've done prior and really showcase the progression we've done as a band.
Where can we find your social media sites?
We have all the main social media accounts for the band. Our Facebook, Instagram and Twitter should be easy to find when typing in 'Idle Crooks & Englishmen'. Give us a like please! We know the importance of an engaging social media account and we try and achieve this as much as possible.