I first came across Burnt Out Wreck at a RACPA festival in Nottingham a few years ago and to say I was blown away by their full on delivery is an understatement. Thankfully that vibe has been caught in the studio for their latest album This Is Hell, currently on release from Burnt Out Wreckords and Cherry Red Records.
Fronted by the iron lunged vocals of ex Heavy Pettin drummer Gary Moat, these nine tracks prove that rock and roll is far from dead judging by their attitude, point proven by album opener 'Dead Or Alive'. It's played as it should be, no frills, just smash it out as the riffing from Adrian Dunn and Miles Goodman will have you reaching for your air guitar and Gary wails like Marc Storace in his prime. 'Positive' is a laid back slow burner, all menacing grooves with a tasty blues solo midway. 'Paddywack' blazes away like 'Bad Boy For Love' by Rose Tattoo cranked up to eleven. Huge choruses stuck in my head immediately and it's topped off with a full on wah wah guitar solo. 'Headfuck' will get heads banging with its heavy blues raunch.
'Guitars Electrified' lives up to its name as the guitars go into overdrive as Garys lyrics make a statement of intent about what to expect from a Burnt Out Wreck show. The album title track totally crushes and if hell sounds like this then sign me up for the barbecue! The lyrics of 'Rock Hard Sticky Stuff' are saucier than a thousand Blackpool postcards, backed by even sleazier rhythms. 'Just A Dog' has uplifting Southern rock influences running through this short, sweet tune that had me put it on repeat play a fair few times. The album ends way too soon with my favourite track 'Snow Falls Down'. All unrelenting riffing that creates one big party atmosphere, especially in the huge choruses.
This Is Hell album track listing :-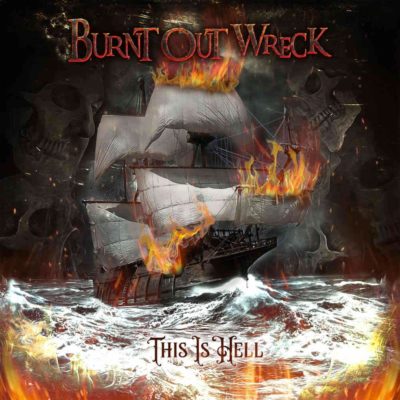 Dead Or Alive.
Positive.
Paddywack.
Headfuck.
Guitars Electrified.
This Is Hell.
Rock Hard Sticky Stuff.
Just A Dog.
Snow Falls Down.
Burnt Out Wreck band line up :-
Gary Moat – Lead vocals.
Alex Carmichael – Bass guitar.
Paul Gray – Drums.
Adrian Dunn – Lead guitar/backing vocals.
Miles Goodman – Rhythm guitar/backing vocals.
Links: