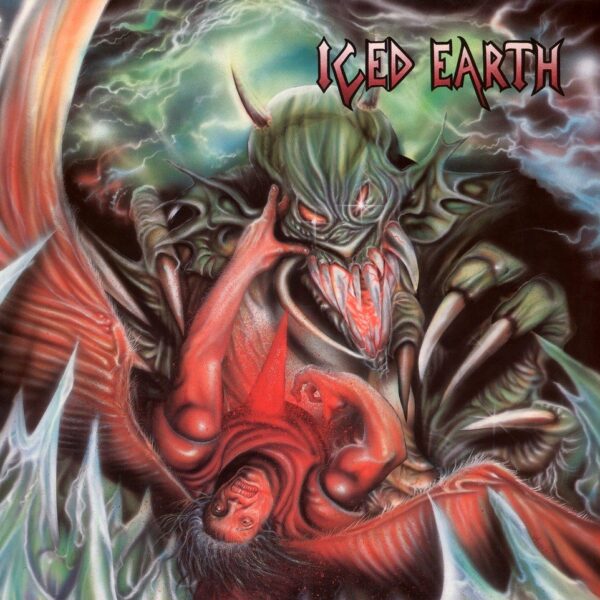 Iced Earth go back in time to their self titled released in 1990 debut album which has been remixed and remastered from the original 2″ tapes. Formed in Tampa Bay, Florida 1984 I'll admit to being late on the scene for them, not checking them out until the 2011 release of Dystopia so I'm approaching the debut with fresh ears.
Opening track 'Iced Earth' sets the bar high early as they toughen up after a spoken word intro. A laid back guitar midsection gives way to super fast thrash metal riffing and a strafing solo as it closes on grittier riffs.
A crushing main riff to 'Written On The Walls' heads off into a brief guitar flurry, a barrage of intense riffing and furious snare drums. Lyrics are screamed out with full force from Gene Adam. These frantic six minutes slow down for brief militaristic tempos and a more soothing vocal until it heads off into the fast lane.
Bask in the glory of the metal monster that is 'Colors'. Riffs buzz like angry hornets and a sting in the tail comes from twin guitar meltdown midway.
'Curse The Sky' is a slow burner that speeds up into pit opening thrash metal in the blink of an eye.
From the sedate intro to 'Life And Death' I was expecting a ballad as Gene croons over poignant guitar lines until the fuse is lit for some dizbusting thrash metal as the vocals muscle up in this metal maelstrom.
'Solitude' is a brief, gently picked acoustic guitar piece that sounds truly ethereal as the instrumental 'Funeral' is a foot to the floor slammer that kept my attention throughout these six minutes as the dizzying time changes are hard to keep up with.
Final track is the nine minute epic 'When The Night Falls' that covers all bases. Multi time changes blaze a fiery trail throughout with unparalleled bravado for some of the most intense thrash I've EVER heard!
The album is available on 180 gram vinyl, a limited edition digipack or digital download.
Album track listing :-
Iced Earth.
Written On The Walls.
Colors.
Curse The Sky.
Life And Death.
Solitude.
Funeral.
When The Night Falls.
Band line up at the time of recording :-
Jon Schaffer – Lead Guitar/Rhythm Guitar/Backing Vocals.
Gene Adam – Lead Vocals.
Dane Abell – Bass Guitar.
Mike McGill – Drums.
Randy Shawver – Rhythm Guitar.
Band links :- http://icedearth.com
A benchmark for heavy metal.