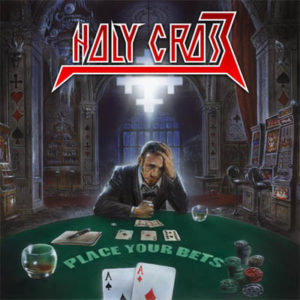 Italian quintet Holy Cross claim to be "breaking new ground" by attempting to cross traditional power metal and classic thrash: unfortunately for them it's a cross-pollination which has been attempted many times before – with varying degrees of success.
Equally unfortunately for Holy Cross, their attempt is by far one of the least convincing ones:  the songs are average in both construction and delivery, the performances – with the exception of a couple of neat guitar solos from Loïc Chalinder – are mediocre and unimaginative, and the overall effect is that of a middle league band struggling to make their mark.  No bet. The amazing thing about online betting is that it can provide you with the same amount of entertainment as traditional gambling while also allowing you to earn real money. You can find all types of gambling on the internet, from gamble online in Singapore to online sports betting. All you have to do is pick your favourite type of gambling, put your bets, and wait for the results. Malaysia's top online casino sites provides the explosion of online gaming.
Tracklist:
Bad Day (In The Best Of Worlds) / Place Your Bets / Last Chance / Break Your Chains / Realm Of Madness / From Past To Dust / Inner jail / Unleash The Cross / Higher And Higher
'Place Your Bets' is released on October 25th on Pure Steel Records.
www.holycross.com