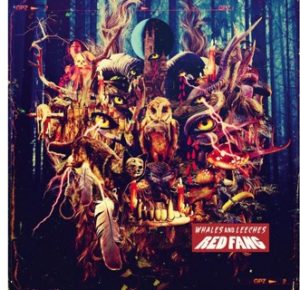 Having only completed the mammoth touring cycle in support of their 'Murder The Mountains' album at the beginning of the summer, Oregon quartet Red Fang have wasted very little time indeed in recording and releasing this follow up, their third full lengther.
The one thing that comes across with this 'hurried' process is the pure energy and vitality that the four lads – Bryan Giles (guitar/vocals), Aaron Beam (bass/vocals), David Sullivan (guitar) and John Sherman (drums) – have invested in the recording, which ingests the album with a truly live, naked, organic and raw feel.  Oh, and it's as catchy as fuck, with massive, highly memorable choruses blended into its dark, sludgy riffs:  the likes of 'Blood Like Cream', with its huge Kyuss-recalling hook, and 'Crows In Swine' appeal on every level, from the darkest, most visceral elements of their stoner souls to the heights of the glorious vocal harmonies, while 'Voices Of The Dead' possesses the sort of downer doom feel that would sit proudly alongside anything the likes of, say, St Vitus or Trouble have produced in recent years.
While there is a raw energy about the album, there is also a depth of feel, and a thoughtfulness in both the song constructions and the lyrical presentation, which shows that the band obviously do not spend their down time on their hectic touring schedules sitting fiddling with their guitars but thinking about how to progress to the next level in their craft.
I had the pleasure of seeing the Fang live for the first time earlier this year (midway through the European leg of the tour schedule referenced at the beginning of this review):  on the basis of that performance, and comparing it to this album, I have to say that 'Whales And Leeches' is about as close as any band are going to come to capturing the pure nakedness of their live shows in the comparatively stale surroundings of a studio…  no fills, no frills, just a good old-fashioned showcase of a very talented band with a lot to offer to the aficionado of good old-fashioned heavy metal…
Track list:
DEON / Blood Like Cream / No Hope / Crows In Swine / Voices Of The Dead / Behind The Light / Dawn Rising / Failure / 1516 / This Animal / Every Little Twist
'Whales And Leeches' is out now on Relapse Records.  You can get your copy by clicking on the Amazon banner at the top of the page.
Red Fang tour Europe again next year, starting in Geneva on January 18 and including the following British dates:
March 17 – Corporation, Sheffield
March 18 – Sound Control, Manchester
March 19 – Classic Grand, Glasgow
March 20 – Institute Temple, Birmingham
March 21 – O2 Academy, Islington
Support on all dtaes comes from The Shrine and Lord Dying.
https://www.facebook.com/redfangband