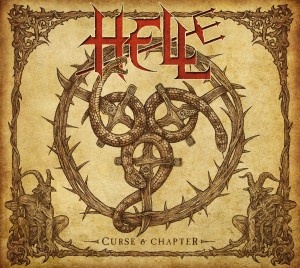 Resurgent and revered following their return to not just the British metal scene but well beyond it, Hell follow-up their critically acclaimed 2011 album Human Remains with another fierce reminder of what they are capable of.
When I reviewed the Age of Nefarious EP a few weeks back I had said it was a teaser that made waiting for the album all the harder to take. Well, now that wait is finally done and here we have Curse & Chapter in all its glory.
Firstly though, I have to say that had Martin Walkyier stayed on vocals I reckon this is the closest you would ever get to another Sabbat album. Over the course of its twelve tracks and hour or so length there are times I could imagine Walkyier's vocals sitting very comfortably. Now, on that point more importantly, I want to take nothing away from David Bower's vocals because they play a huge part in what makes this album so great.
He does indeed sound like the bastard lovechild of Rob Halford and Geddy Lee. There's a maniacal edge to his voice that just suits this music to a tee and turns it into more of a performance art, part of the act, part of the story. It works a treat.
This, in short, is a damn great heavy metal album in the truest sense of the words. There's moments of symphonic black and doom metal, elements of thrash, melodic speed at times, but all the while it has its flag firmly planted first and foremost in thumping old school metal riffage and melody. I would expect nothing less either from a band of their heritage.
Each track has its own feel, emotion and scene that you feel it's trying to set and draw you into. For the most part it works to great effect although Harbinger of Death feels a bit out of place with its Megadeth styled riffings and almost rock like drive. Age of Nefarious and Disposer Supreme are probably my two favourite tracks on the album thanks to their superb atmosphere, riffage and vocal performance. There's also some brilliant keyboard work on Disposer that, albeit brief, works perfectly.
Darkhangel has to be mentioned too, again from a performance perspective. Bower's storytelling coupled with the composition of this sprawling track is like opening a new book to read. It's rich and diverse.
Rich and Diverse is also the best way to describe this album. Each track feels more like opening a new chapter in a forever engulfing storyline and you can't help but let yourself be drawn in and carried away by its spectacle. Hooked in curse and chapter indeed.
Curse & Chapter is out Nov 22 (EU) & Nov 25, 2013 (UK & US) through Nuclear Blast
HELL are:
David Bower – Vocals
Kev Bower – Guitar, Keyboards, Vocals
Andy Sneap – Guitar
Tony Speakman – Bass
Tim Bowler – Drums
Track Listing:
1. Gehennae Incendiis
2. The Age of Nefarious
3. The Disposer Supreme
4. Darkhangel
5. Harbinger of Death
6. End Ov Days
7. Deathsquad
8. Something Wicked This Way Comes
9. Faith Will Fall
10. Land of the Living Dead
11. Deliver Us From Evil
12. A Vespertine Legacy
LINKS:
www.hell-metal.com
www.facebook.com/hellofficial
www.youtube.com/hell
www.myspace.com/hell
twitter.com/hell_band