I have had a rocky relationship with Haken over the years, whilst their shows have been somewhat of mixed quality their albums have remained consistent, but that consistency has sometimes felt like their albums are something of a facsimile of others.
Come 2023 and Fauna is upon us. This is a band who are now moving forwards, progressing, like the progressive band they should be and something they reference in Alphabet of Me:

It's time to wake up and die or regenerate
If you're part of me
Quit me now
We're never gonna reform if we replicate
Replicate
Replicate
It is a very modern-sounding album taking nods from all current musical corners and whilst the results are not going to be for everyone I am loving every minute of it; a parallel is Frost* and their continued exploration of sounds and stylings.
Original keyboard player Peter Jones has rejoined the band and he may well be the key to this progression, singer Ross Jennings says of this "what he has brought sonically to the band has played a massive role in why we do have a lot of new sounds on this record."

As with any great progressive album, there is a theme, and a narrative running throughout Fauna, the band has let each song have its own spirit animal to provide it with an identity and it proves to be a wonderful journey.
Opening track Taurus has a driving alt-metal riff and vibe going through it, it sounds very determined like the struggles Ukrainians are facing at this time.
The aforementioned Alphabet of Me has interesting subtleties flowing through it like the understated trumpet which is simply exquisite in this generally lighter piece that still manages some truly epic moments.
Sempiternal Beings has a grinding, almost metal low-end riff that runs through the song, along with an outstanding guitar solo whereas Beneath The Rainbow features the very effective use of a piano-driven riff using the low-end keys in an almost dissonant way.
Clocking in at 11 minutes, Elephants Never Forget is a beast of a song with musical references to Queen, almost a homage to them in places, and to top it off there is some Gentle Giant complexity slid in.

There is an alternative version of Fauna, as there is with most of their albums, and that is purely instrumental. I'll be honest that it does nothing for me as I much prefer the story playing out in the lyrics.
Overall I am so impressed by the album having played it every day since its release on my reference hi-fi system it sounds phenomenal and the bass is all over my face when I play it on my Bose system.

Without a shadow of a doubt, this is the best thing they have done.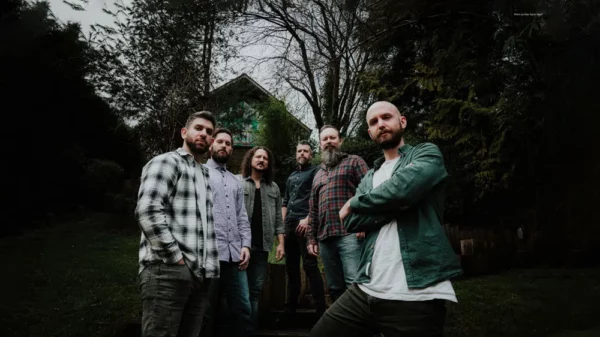 Check the out online – links to all their social media is at the top of their webpage
https://hakenmusic.com

Also, catch Haken on tour:
23 March, 2023 – SWX, Bristol
24 March, 2023 – Academy 2, Manchester
25 March, 2023 – The Garage, Glasgow
26 March 2023 – O2 Shepherds Bush Empire, London

Check the website for other European and USA dates.

HAKEN are:
Ross Jennings – vocals
Richard Henshall – guitars, keyboards
Charlie Griffiths – guitars
Pete Jones – keyboards and synths
Conner Green – bass
Ray Hearne – drums
Tracklisting:
1. Taurus
2. Nightingale
3. The Alphabet Of Me
4. Sempiternal Beings
5. Beneath The White Rainbows
6. Island In The Clouds
7. Love-bite
8. Elephants Never Forget
9. Eyes Of Ebony
Out now on InsideOutMusic.
You can order now from: https://haken.lnk.to/Faun
Modern progressive masters Haken return with quite possibly the finest album of their career!