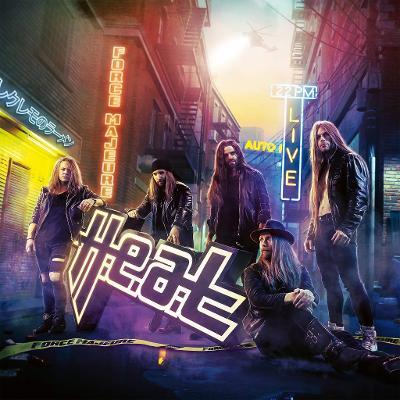 Tearing out of Upplands Vasby, Stockholm, Sweden in 2007, H.E.A.T are making the temperature rise with their brand of hard rock, point proven by Force Majeure, their seventh studio album via earMUSIC.
These eleven thermometer bursting songs begin with 'Back To The Rhythm'. A colossal drum intro along with earworm riffing gains power for a headbangingly heavy groove. Lead vocals from Kenny Leckremo whoop and holler to make themselves heard above the tumult.
'Nationwide' sees them riff it up even harder to drive this hard rocker to the finish line as multitracked vocals make for an early album highlight but gold medal goes to the guitar piece midway.
You will need a hard rock transfusion for 'Tainted Blood' such is the power of this song that will have you reaching for your air guitars and wondering how Kenny hits them notes once more.
'Hollywood' is a feel good song to be blasted out of your car, windows down and hair blowing in the wind as it has so many hooks it'll make that smile on your face widen when the chest beating choruses kick in!
I was getting an early Styx vibe from 'Harder To Breathe' as beautifully melodic choruses oxygenate and let you exhale to belt out the monstrous choruses.
'Not For Sale' is truly priceless for this rabble rousing rocker. Its value is increased by the spotlight stealing vocals from the top shelf and stadium filling choruses are ethereal.
'One Of Us' is a ballad to pick you up and not let go until it's dragged every last tear from you.
Load up the magazine for 'Hold Your Fire' as it's a foot tapping slice of barroom boogie and surely a candidate for rock radio airplay.
'Paramount' got repeated plays to make me think that if there's such a thing as a perfect song, then this is a massive contender. The melodies took my breath away and when the guitar took on the rhythm it takes on a life of its own. Absolutely devastating!
The band flex their muscles for 'Demon Eyes' to show they can kick out the jams when needed as they hit their metal stride for a kick drum driven aftershock. A gritty vocal matches the madness all around as the riffs and solos fly off the fretboard for a sonic assault.
They close this magnum opus with 'Wings Of An Aeroplane' to portray life on the road whilst touring. It's a first class ticket that sees this anthem in the making cover all bases. An unreal ending is an adrenaline rush of pounding grooves, grinding riffs, one last blast of facemelting solos and virile vocals.
Album purchase links and other band info are here :- https://Heat.lnk.to/ForceMajeureFA I http://heatsweden.com I https://www.instagram.com/heatsweden/ I https://twitter.com/heatsweden I https://www.youtube.com/results?search_query=h.e.a.t+band+
Force Majeure album track listing :-
Back To The Rhythm.
Nationwide.
Tainted Blood.
Hollywood.
Harder To Breathe.
Not For Sale.
One Of Us.
Hold Your Fire.
Paramount.
Demon Eyes.
Wings Of An Aeroplane.
H.E.A.T band personnel :-
Kenny Leckremo – Lead Vocals.
Dave Dalone – Guitar.
Jimmy Jay – Bass Guitar.
Jona Tee – Keyboards/Organ.
Don Crash – Drums.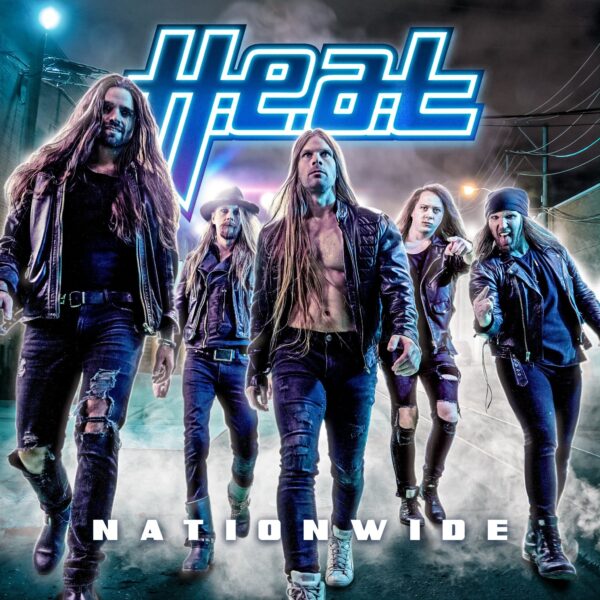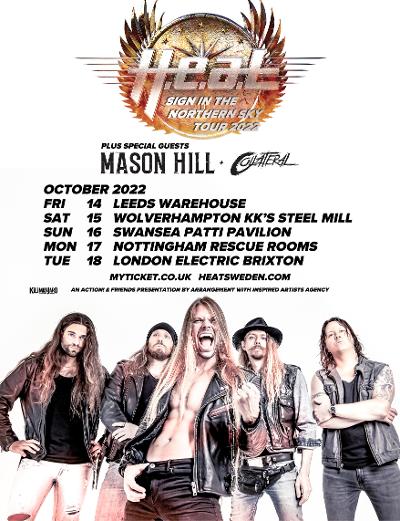 Temperatures are bound to rise as H.E.A.T return on a comet to light up the sky with new studio album Force Majeure.