Gypsy Pistoleros, the Flamenco Glam Sleaze Rock n Roll pioneers, having signed a Worldwide record deal with Golden Robot Global Entertainment / RIOT Records, home to Rose Tattoo, L.A Guns, Skid Row, Kings X, Gilby Clarke,  etc. return with an August 28th release ''The Greatest Flamenco Sleaze Glam Band Ever!" – a Best of 18 track anthology album.
The singles 1st single: 'Bandido (The Ballad of Billy The Kid)'
Pre-order: 5th June
Release date: 22nd June
2nd single: 'Crazed Gypsy Girls Lair (Loco Loquito)'
Pre-order: 26th June
Release date: 20th July
Album: 'Gypsy Pistoleros – The Greatest Flamenco Sleaze Glam Band Ever'
Pre-order: 7th August
Release date: 28th August
The new Gypsy Pistoleros line-up has been confirmed as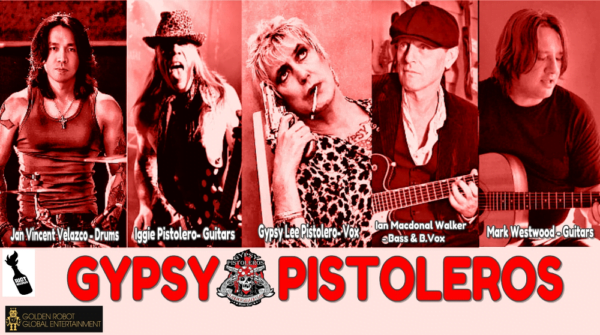 Gypsy Lee Pistolero – Vox,
Mark Westwood  (Shadowland, Clive Nolan, GLP) – Guitars,
Iggie Pistolero – Lead Guitar
Ian MacDonald Walker – Bass B.Vox
Jan Vincent Vellazo (Pendragon, Ghost, PIG) – Drums
They are already working on a brand new album 'The Mescalito Vampires!'  in Black Tree Recording Studios, with guitarist Mark Westwood engineering & producing (The Beat, Dogs D'Amour, Hazel O'Connor, Dreadzone, etc)
An alternative mix will be done by Joe Gibb ( David Bowie, The Cure, The Kinks, Janes Addiction, Catatonia, etc. )
Live Tour dates will be announced for next year.
Singer Gypsy Lee Pistolero AKA Lee Mark Jones http://theatreofthewildbeautifulanddamned.co.uk/ continues his Edinburgh Festival Fringe 2019 hit one-man show 'A Rock n Roll Suicide!' U.K Tour in October. The autobiographical story that included singing live, chronicling his life as a nearly never was Rockstar, ironically led to renewed interest in his musical career and the signing to Golden Robot.
See 'A Rock n Roll Suicide!' Rock n Roll Theatre Tour 2020 starring Lee Mark Jones AKA GLP at
August 8th till 30th Bannerman's Rock Venue (The Alternative Edinburgh Festival Fringe) 12.15 AM onstage
October Thursday 1st The Ferret Preston
October Friday 16th The Waterside Arts Centre (Sale) Trafford
October Sunday 18th The Subside Rock Bar Birmingham
October Thursday 22nd The Purple Turtle Reading
October Wednesday 28th Trillian's Rock Venue Newcastle-Upon-Tyne
Hard Rock Hell XIV Festival
November Friday 6th private set for D.C (Dark Circle) members 12 am
November Saturday 7th 10.40 pm Main Stage