GYPSY PISTOLEROS Release Debut single for Off Yer Rocka, the title track from forthcoming album 'The Mescalito Vampires' on June 7th!
Get ready for all hell to break loose on June 7th as the GYPSY PISTOLEROS unleash their debut single for Heavy Rocka Recordings !!!
Just when you thought it was safe to go out? The Swashbuckling Renegade Flamenco Rock Rumba Punk n Roll pioneers Gypsy Pistoleros release the title track from the forthcoming album 

'The Mescalito Vampires (Welcome to the Hotel de la Muerta)'  see's the classic 'Eagles' song
'Hotel California' reinvented and rewritten in a rumba flamenco punk n roll fashion. The story of a
Seductive Vampiric Countess in a rip-roaring romp that oozes mariachi punk gunslinger vibes on a wild &
crazed ride! Viva la revolution!

'The Mescalito Vampires (Welcome to the Hotel de la Muerta)' single is out on 7th June
Pre-save NOW – https://backl.ink/146946722?fbclid=IwAR2v7Skcb2CGzNiE8qmJCKTJWBsOFDz8SQ1rNPEpsN2FXbBF79pjt3EwuoE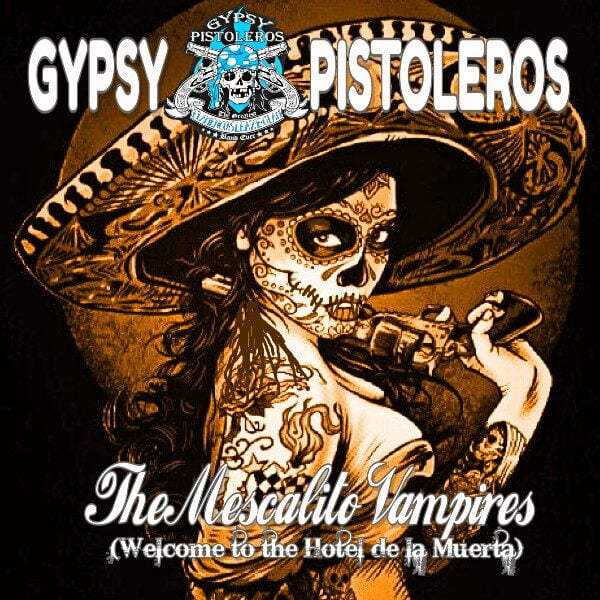 Described as the Album they always promised to make, the forthcoming album release sees GYPSY PISTOLEROS fully embracing their fiery flamenco/rumba passion & crossover punk Rock n Roll leanings! Latin Rock's Appetite for Destruction, 'The Mescalito Vampires' on Heavy Rocka is out August 14th
" This is actually a reworked and rewritten version of the Eagles 'Hotel California' and is quite simply a
stroke of genius, I mean, anyone can do a cover version but this is far more than that, although the roots
are still visible the rest of the hair has been coloured 'Pistolero'." Martin Granville (Jace Media)

The Mescalito Vampires (Welcome to the Hotel de la Muerta) – VIDEO by Purple Chicken TV

A full comic featuring GYPSY PISTOLEROS 'The Devil's Done Deal!' will be released alongside the album.
From renowned artist Paul Roper – Demon King Entertainment.
"Deputised by the Devil himself the Gypsy Pistoleros must hunt down 999 demonic souls to earn their
freedom from the curse. The Devil's fine print says for every soul collected should an innocent die 3 more
are added to the list! Time to settle the bill!"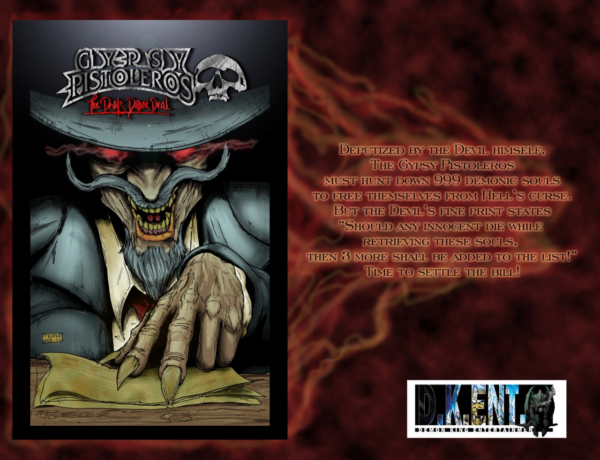 Live Tour & Festival dates confirmed so far!

Hard Rock Hell Sleaze Festival 28th August 2021

Hard Rock Hell Festival Sat 6th November 2021
Gypsy Pistoleros are best described as being the ideal house band for the fictitious Titty Twister bar of Rodriguez's
From Dusk till Dawn. Between the nods to Morricone's tense, tumbleweed atmospheres and the Gypsy Kings' manic
Mediterranean energy, a New York Dolls raw glam spark and a surplus of prime G 'n' R attitude, the Pistoleros' sonic style is captured to the full with the release of an album they have always threatened!
Remaining something truly unique and interesting in today's predictable musical landscape. Combining
their truly unique mix of flamenco rumba which gleefully collides with old school punk rock 'n' roll riffs in a head-on collision. In the best rock 'n' roll tradition, with big hooks, attitude, and sleaze. Yet those flamenco breaks got into your head and refuse to leave – this hybrid rocks.