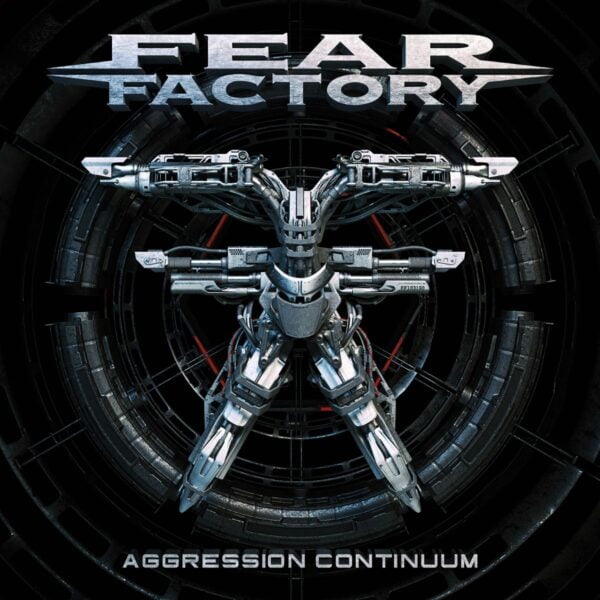 In 1995 the World of metal music was shaken to its very foundations when Los Angeles based Fear Factory unleashed their Demanufacture album to critical acclaim. Labelled as industrial metal, cyber metal, futuristic metal or whatever genre you wanted to throw at it, the album was a major game changer for them. Fast forward to the present day and even though their back catalogue has been strong, nothing came close to it until now!
Aggression Continuum, their tenth studio album due to be released on June 18th 2021 via Nuclear Blast Records can stand shoulder to shoulder with it although it's a bitter sweet release as lead vocalist Burton C. Bell who has been with the band since their formation in 1989 has left once again when the album was finished. If this is his swansong then he's certainly gone out on a high but personally I hope he returns to the fold.
'Recode' opens up proceedings with the trademark hard as nails riffing from Dino Cazares, snapping snare work and kick drum fury from Mike Heller pinned down by the monstrous grooves from Tony Campos on bass guitar. The vocals from Burton switch from clean to gnarly. They're not breaking new ground thank God as they just keep on battering our senses to their very core.
Shockwave after shockwave of incessant riffing throughout 'Disruptor' rages alongside limb snapping drum patterns as Burton barks out his lyrics in time with the rhythms.
'Aggression Continuum' sees the heaviness reach new levels of aural destruction as a lengthy synth intro precedes an invincible force of snare work and an arsenal of serrated riffing as the aggression from Burton highlights the song title.
'Purity' has a lack in pace but definitely not in power as it forges along on undulating grooves, prominent synth stabs and swathes until it finishes savagely on a full band outro.
'Fuel Injected Suicide Machine' sounds like it's been injected with nitroglycerine as the intensity reaches to stratospheric heights but the spotlight is stolen by a razor sharp riffed mid section.
'Collapse' is a gruelling but gratifying grind as Burton hammers home a mantra of "Pray now, pray now, pray to your killer".
Buzzsaw like riffing ripped through my headphones throughout 'Manufactured Hope' to make it my album highlight and the rhythm section is no slouch as it matches them blow for blow.
'Cognitive Dissonance' is definitely dissonant as it strives to break through the sound barrier with a cataclysmic cacophony of garagantuan grooves.
Melodic but still caustic riffs in the verses for 'Monolith' muscle up into Earthshaking stomps in the clean vocalled choruses as out of nowhere a rarer than a sighting of Halley's comet guitar solo arrives.
This return to form album ends with one last mind blowing assault as 'End Of The Line' strides along on a route march like trek that could flatten anything that strays into its path. Body blow punch like kick drum work are their fiercest contribution to the album by far as this seven minute epic ends on eerily ambient spoken word passages.
Pre- Sale and band links are here :- https://www.fearfactory.com I https://www.facebook.com/fearfactory I https://www.youtube.com/channel/UCEtBVHMgm0oLyERk3apcM7Q I https://amazon.co.uk/Aggression-Continuum-Fear-Factory/dp/B092L13JCX/?tag=plane09-21
Aggression Continuum album track listing :-
Recode.
Disruptor.
Aggression Continuum.
Purity.
Fuel.
Collapse.
Manufactured Hope.
Cognitive Dissonance.
Monolith.
End Of Line.
Aggression Continuum album personnel :-
Burton C. Bell – Lead Vocals.
Dino Cazares – Guitar/Backing Vocals.
Tony Campos – Bass Guitar/Backing Vocals.
Mike Heller – Drums.
No fear shown by Fear Factory as they continue with the Aggression Continuum album.