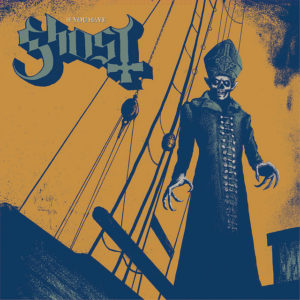 Ghost (Ghost B.C in the USA) is a Swedish rock and roll export, who debuted their last full-length effort, Infestissumam, at #1 in their home country. The followup to that album, the EP If You Have Ghost, was produced by the illustrious Dave Grohl.
At some point, 'underground' or 'indie' musicians who want to "go pro" realize that they'll have to leave their chosen genre or comfort zone, and if they really want to "break in to" a market, they're going to have to play a few covers. At some point, a career adviser demands the artist or band shell out at least one good cover tune, to familiarize them to a new world of listeners. If you're not familiar with the original songs, the cover versions are a miniature collection of standalone good tunes in their own right.
These musicians have recorded a nice selection: easy on the ears, enjoyable, and worth a listen. If You Have Ghost has a clear production and a very full, well-balanced sound. Listeners' ears are not left wanting, searching fruitlessly for bass guitar, cymbal sizzle, or vocal subtlety. Full rock power is on show: the band has a sophisticated, mature, subtle approach to 'stamping' each tune and making that tune it's own. The songs aren't arranged so densely that a listener has to struggle to enjoy 1465 layers. It's just plain catchy rock.
The first tune on the EP, Roky Erickson's "If You Have Ghosts", is a brilliant pop tune, melancholy-tinged and highly melodic. The song has a current appeal as well as addressing the band's decidedly pointed talent, which is to be highly reflective to, or reminiscent of, metal progenitors Blue Oyster Cult.
There's an art to choosing bands who should have their songs covered. The second song, an Abba cover for "I'm A Marionette", is a nice pick, and a possible nod to the band's homeland. Abba is hailed as a brilliant, but very 'light', pop band, so this dark-hued rock, "nipping at heavy metal's heels" cover version is… different.
The EP is sequenced or paced like a full length record, with the ballady acoustic guitar intro leading in to a very Megadeth-sounding, but highly restrained, verse from Army Of Lovers "Crucified". For the most part, it's a pop rock tune with a light touch, balancing casual and delicate, with dark and brooding.
The slower-pace, doomy "Waiting For The Night", originally by Depeche Mode, again reminds listeners that the band draws mojo or influence from a band which was wildly successful in decades prior – Blue Oyster Cult. The band hints at anthemic, huge rock 'n' roll power, but again restrains, letting the listener's imagination run wild. As on "Crucified", the harmonized guitar line lends additional depth and texture to the song.
The last song is an original, "Secular Haze", recorded live at one of the band's concerts. Crazy glissando and syncopation lend a 'carnival' atmosphere to the otherwise slower-paced, doom infused tune.
If you've been led to believe, through the band's costume or lyrical hype, that Ghost B.C are a "metal" band, you will be very sorely disappointed. Very firmly entrenched in pop rock, the band do retain sparse hints, mostly vocal, to the 'harder' side of music – heavy metal. Ghost B.C manage to maintain a veil of secrecy, or at least mystery, with Papa Emeritus and the Nameless Ghoul backing band. The band maintains enough following, hype, and buzz to have landed major label support. They've also got some real brilliance, and bonafide talent that shines. This EP is an aural 'holiday away': sit back and enjoy the modern doom rock splendor.
Track List:
If You Have Ghosts
I'm A Marionette
Crucified
Waiting For The Night
Secular Haze (Live)
Links:
Official Band Website
Official Band Facebook
Official Band Twitter