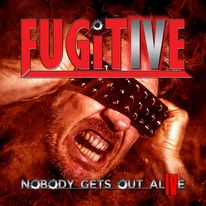 Welcome back Liverpool based rockers Fugitive with new studio album Nobody Gets Out Alive released on CAT Records Music Label, an apt description of how strong this is proven by opener 'Anything Is Possible', a feelgood rock and roller fuelled by big fat riffs that hit hard and heavy over an Axl like drawl as lead vocalist Michael Angel hits some potent notes, especially in the statement of intent choruses, ending on shimmering guitar solos.
'Raised On Rock', first single taken from the album is a perspective number that seems to portray forming a band, recording and playing live to make it a no frills headbanger with shout em out loud and proud choruses of "Raised on radio, raised on rock, raised on radio, not Tik Tok!".
'Not Guilty' is a power ballad that opens up with earworm guitar lines into heavier riffs, sun kissed choruses and a midway guitar solo of sheer beauty.
The heaviness returns with 'Guilty As Charged' with brick heavy riffing , crushing powerchords and another spotlight stealing vocal. Choruses pack a hefty punch as it ends on mighty "Whoa oh oh's".
'Loco Moto' sees this loco motor down the tracks for one of the heavier tracks musically and lyrically.
'One Year Straight' is written and produced by the legendary Russ Ballard. Tinges of Damn Yankees are no bad thing as this catchier than an STD melodic rocker breezes along, beckoning to be blasted out of your car stereo with the windows wound right the way down.
'A Journey's Path' is another heavy hitter with rock radio airplay written all over it. Another vocal masterclass stands tall as a piano lead intro is the calm before the storm of chugged riffed verses and pleading choruses, ending on more poignant piano.
'Back In Business' spares no costs as a sledgehammer blow drummed intro segues into this aptly named song as Fugitive put the pedal to the metal, peppering the song with enough solos to keep the air guitarists happy!
The heaviest song here comes from 'Freakshow', deafening through headphones as Sabbath tinged riffs have wrecking ball like levels of destruction, especially from a lengthy riffed and solo ridden outro.
'Show Me The Way' (not a Peter Frampton cover) is sugar sweet AOR of the highest order, bouncing along on smile inducing grooves and helium fuelled vocals.
'Raised On Rock' (re-worked) is one of three songs on the album from their 2021 lockdown #EP: Not Guilty that also include 'Not Guilty' and 'Back In Business'.
Purchase links to the album and other band info are here :- http://fugitiveweb.co.uk/ I https://twitter.com/fugitiverock I https://www.instagram.com/fugitivemelodicrock/ Ihttps://www.facebook.com/fugitiverock I https://www.youtube.com/channel/UCQkrNCvdi3kc1D7VrpIQbDQ
Nobody Gets Out Alive album track listing :-
Anything Is Possible.
Raised On Rock.
Not Guilty.
Guilty As Charged.
Loco Moto.
One Year Straight.
A Journey's Prayer.
Back In Business.
Freakshow.
Show Me The Way.
Raised On Rock.
Fugitive band personnel :-
Ranko-Lead Guitar.
David Haskayne -Bass Guitar.
Pete O' Connor-Drums.
Michael Angel – Lead Vocals/2nd Guitar.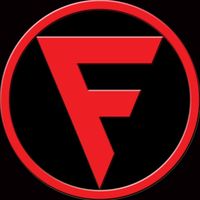 Fugitive capture eleven shackle breaking songs on new album Nobody Gets Out Alive.