German Power metal/melodic metal band Freedom call celebrate their 20th anniversary this year and what better way to celebrate than to release a new studio album? It's their tenth album, and is called "M.E.T.A.L." which frontman Chris Bay says is tongue in cheek, adding "After all, everybody knows that we don't exactly play extremely raw death metal. We're happy for our music to polarise the audience which is precisely what's been happening since we've announced it on Facebook".
Check out the title track, M.E.T.A.L…
On this album, Kevin Kott (Masterplan) plays the drums but since the album recordings Timmi Breideband (Bonfire, At Vance) has been recruited as the new drummer and Francesco Ferraro has joined on bass.
The first song to be released from the album was the opening track, "111"…
After 20 years I think it's safe to say that most metal fans will know what to expect from Freedom Call, especially if those fans are fans of the melodic metal or power metal genres. There are strong choruses, plenty of guitar and a real sense of fun and positivity. There are a few good guitar solos but the vocal harmonies are the main feature of the album. It really is nice to hear upbeat fun and positive sounding metal as a break from those bands that take things too seriously or who focus on the darker side. It's the sort of music that goes down well at festivals when people jsut want to have a good time. It's a great enjoyable album that's well worth a listen.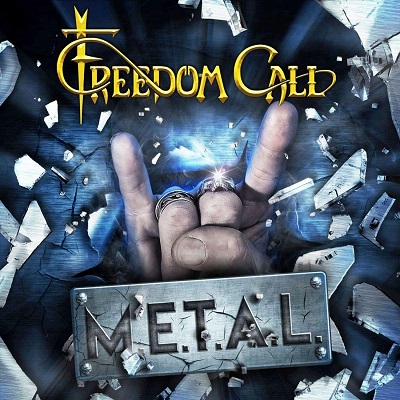 "M.E.T.A.L." will be released on 23rd August 2019 via Steamhammer/SPV
Track listing:
1. 111
2.Spirit of Daedalus
3. M.E.T.A.L.
4. The ace of the unicorn
5. Sail away
6. Fly with us
7. One step into wonderland
8. Days of glory
9. Wheel of time
10. Ronin
11. Sole survivor
It's a great enjoyable album that's well worth a listen.