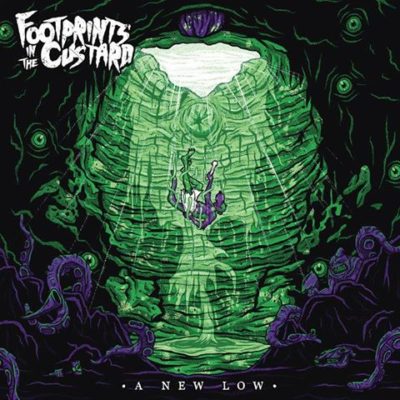 With all the crap going on in the World, you can always rely on class clowns Footprints In The Custard to make you forget about it, point proven by current release A New Low. To these ears the Crewe/Manchester based band have reached a new high with 13 pieces of barely controlled insanity which befits their self proclaimed title of "Comedy party metal".
The album kicks off rather sensibly by their standards with a laid back, call to arms instrumental but this mood is soon blown away by the utterly non PC friendly 'Beer Goggles'. The madcap delivery by vocalist Russ Custard growls over grinding but catchy riffing and cataclysmic kick drumming from Alex Sladen. Following an hilarious cack handed country and western like intro to 'Ride,My Little Pony,Ride', the over the top choruses are matched mentally when it goes from mid paced thrash to a fitting Maiden like gallop. 'Tequila Nips', (I'll let you make your own minds up about this one) is a jolly little metal hoedown punctuated by mind boggling drinking lyrics. 'Motherfucking Hangover' is all doom riffing to match Russ' pleas of "There's no recollection, what have I become? This motherfucking hangover will be the death of me".
Surprisingly, 'Don't Be A Cunt' is almost tongue in cheek pop punk and the chorus  will be a sure fire crowd favourite. Memories of US lunatics Spazztic Blurr cropped up during the metal meltdown of 'My Grannys A Gusher' with one mind boggling lyric being, "My grannys a gusher, toothless and senile but when she's feeling feisty, she'll flow like the Nile". Minds are bent once more with the unhinged 'Space Force'. As infantile as the lyrics are, catchy thrash riffing and lightspeed drumming are upstaged by an uncanny Donald Trump impression! Current video (which has to be seen to be believed) for 'Clit Commander' features a romantic lyric of "I am your clit commander, I'll spread you wide and take a gander". Precision thrash proves that apart from the gutter level lyrics, they are a very tight band.
'Bums' is a bit of a throwaway track but it's still very entertaining as 'The Horn' is a jolly old pirate metal knees up! They provide a curious U turn with 'The Bar At The End Of The World' as this melody fueled piece has almost Leonard Cohen like vocals amongst all the psychotic ones. This straitjacket wearing album comes to an end as they go all Nightwish on us for 'Love Custard II, The Second Coming' which means they will have to spend all their beer money on a state of the art stage show! This lengthy number is chock full of sweeping synths and crap pirate impressions!
It will be available from Jun 1st on their Bandcamp page featuring a 4 page Digipak and 8 page booklet.
 A New Low album track listing :
A New Low.
Beer Goggles.
Ride, My Little Pony, Ride!
Tequila Nips.
Motherfucking Hangover.
Don't Be A Cunt.
My Grannys A Gusher.
Space Force!
Clit Commander.
Bums.
The Horn.
The Bar At The End Of The World.
Love Custard II, The Second Coming.
All your christmases are rolled into one here courtesy of party animals Footprints In The Custard.