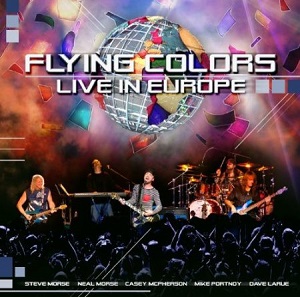 Flying Colors, the group formed by Mike Portnoy, Steve Morse, Neal Morse, Casey McPherson and David Larue released their debut album in March last year, and for me it was one of the albums of the year – stunningly good stuff.  Later that year they toured Europe, and reports I heard back from friends who were lucky enough to go were all very positive.  Happily the band have chosen to release a live album from the European tour.  The album was recorded at Tilburg, Netherlands on 20th September 2012.
My first thoughts on hearing that there was a live album and DVD coming from Flying Colors were quite mixed.  On the one hand I was happy that having missed the live shows I would at least get to see and hear them at home, but on the other hand was a doubt – the band have only released one album so far, so would there really be enough material to fill a live album?
Happily my doubts were unfounded.  Although the band have only released one album, the various members have pretty impressive careers, so we get the entire album along with tracks from Endochrine, Dixie Dregs, Spocks beard, Dream Theater and more. So with a running time of around 1 hr 40 minutes then the album is certainly long enough to allay any doubts on that subject.
So, on to the key question – how do they sound live?  Well all I can say is that they sound just as good live as they do on their studio album.  A lot of bands sound very different live to how they do on a studio album, but that's really not the case here – Flying Colors sound incredibly close live to how they do on the album, so there's no sacrificing studio elements that can't be reproduced live – everything they put on the album gets reproduced in the live environment.
There are several options when it comes to buying "Live in Europe".  It's available as a double CD, 3 LP vinyl, DVD or BluRay.  The Limited Edition Vinyl Set includes 3 LPs on 180gr colored vinyl, a LP sized booklet and an exclusive bonus track.
The Blu-ray and DVD include stereo and 5.1 surround mixes.  As well as including the concert itself, the Blu-ray and DVD releases include a 45 minute "documentary" with is really just interviews with the band members, meet & greet footage and candid moments on the road captured backstage, in the dressing rooms, the band bus, and during tour rehearsals as well as excerpts from songs recorded during the band's very first show (LA, USA), first show in Europe (Hamburg, Germany) and final show (London, UK) of the tour.  The picture and sound quality are both great.
"Live in Europe" will be released on 14th October 2013
Track listing:
Disc 1:
1. Blue Ocean
2. Shoulda Coulda Woulda
3. Love Is What I'm Waiting For
4. Can't Find A Way
5. The Storm
6. Odyssey
7. Forever In A Daze
8. Hallelujah
9. Better Than Walking Away
Disc 2:
1. Kayla
2. Fool In My Heart
3. Spur Of The Moment
4. Repentance
5. June
6. All Falls Down
7. Everything Changes
8. Infinite Fire