No matter what you can't keep a good band down, point proven by veteran thrashers Flotsam And Jetsam who really kick out the jams with their fourteenth studio album Blood In The Water. Formed in 1981 in Phoenix, Arizona, they've consistently released heavy material but new drummer Ken K Mary has really got them firing on all cylinders.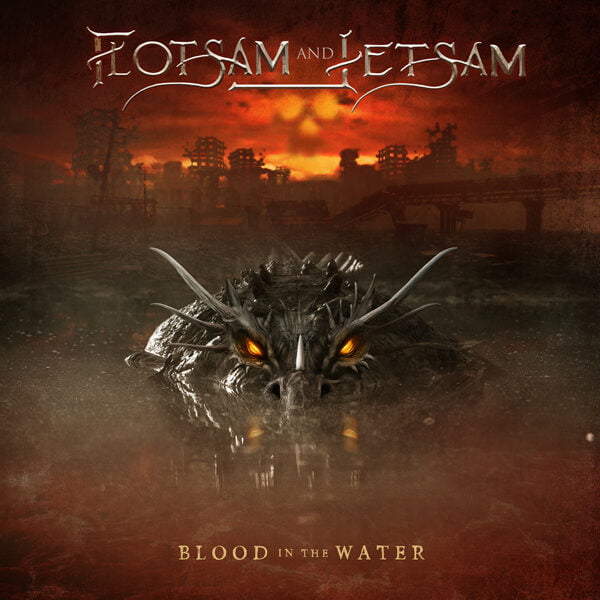 I first heard about them in 1986 via their genre defining debut Doomsday For The Deceiver album which Kerrang magazine gave them a well earned and the first ever 6KKKKKKK review! The only member from that line up now is lead singer Eric 'AK' Knutson who still has a very impressive vocal range, point proven by album opener and title track 'Blood In The Water'.
It brings blood to the ears, mainly from the superhuman drumming. The kick drums sound as though Ken has two pairs of feet and hands for the snare drums. It's a statement of intent as well as being a thrash-tastic, riff-blazer that also adds melody to the choruses which Eric commands with aplomb.
'Burn The Sky' is all body blow pummel over another devastating drum assault. They rage to order with no compromise as Eric stretches out some long notes in the call to arms choruses.
'Brace For Impact' is aptly titled as it flies along on thunderous grooves that could surpass Richter Scale levels. The metal bar is raised higher with fretboard burning guitar solos from Steve Conley and Michael Gilbert as a laid back mid section still hits hard and heavy.
'A Place To Die' is a gargantuan gallop that goes over the top into battle with all guns blazing and the mightily roared choruses encapsulate the emotions of the song.
'The Walls' is potent mid paced thrash that chugs and churns on earworm riffs and melodic guitar lines but the highlight comes from the epic choruses.
'Cry For The Dead' is a ballad with balls. A melodic maelstrom of heart tugging verses and seismic choruses make for a dramatic number as it ends on an operatic tinged outro.
The vehemence returns with 'The Wicked Hour' as the anger is like the hounds of Hell being unleashed. Riffs smother like a cloak of doom with brief moments of daylight coming from melodic guitar lines all pinned down by metronomic drums.
A vocal tour de force for 'Too Many Lives' sees Eric's finest performance on the album as he roars over bludgeoning tectonic plate shaking riffs.
Fasten your seatbelts for 'Grey Dragon' as this drag racer tears up the asphalt on potent proto thrash intensity. The needle is in the red for four circle pit opening minutes of metal mayhem and the snare drums are like Woody Woodpecker on steroids!
Guitars buzz like angry hornets in a jar throughout 'Reaggression' in time with the fast delivered ire filled vocals that see Eric summon and cast out a lot of demons.
The bullish intro to 'Undone' is the calm before the storm of breakneck speed metal as kick drums beef up the catchy choruses.
Final track 'Seven Seconds 'Til The End Of The World' end these dirty dozen songs with a knockout punch of pile driving heavy metal. Ken seems to cover every inch of his kit as the rest of the band whip up a firestorm of face melting grooves, especially from the bass guitar prowess of Bill Bodily.
This highly impressive album has just been released via AFM Records and features the eye catching artwork from Andy Pilkington (Very Metal Art).
Band and purchase links can be found here :- https://www.facebook.com/flotsamandjetsam.official I http://flotstildeath.com I https://twitter.com/Flotztildeath
Blood In The Water album track listing:
Blood In The Water.
Burn The Sky.
Brace For Impact.
A Place To Die.
The Walls.
Cry For The Dead.
The Wicked Hour.
Too Many Lines.
Grey Dragon.
Reaggression.
Undone.
Seven Seconds 'Til The End Of The World.
Flotsam And Jetsam band line up:
Eric 'AK' Knutson – Lead Vocals.
Steve Conley – Guitar.
Michael Gilbert -Guitar.
Bill Bodily – Bass Guitar.
Ken K Mary – Drums.
Flotsam And Jetsam spill the blood, unleashing twelve thrash metal classics that are totally raging on with their fourteenth studio album Blood In The Water!!