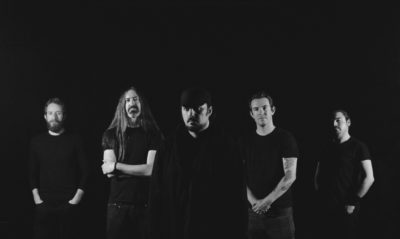 UK prog metal crew FJORDS have just revealed their explosive new album, Onirica, out now. The quintet have also released a stunning video for the track, Prometheus – https://youtu.be/Gk6ZyLaifKI . With this in mind, we asked the band to introduce themselves:
What is the full band line-up, who sings and who plays which instrument?
Dav Carroll – Vocals
Jack Thorp – Guitars
Ben Sizer – Guitars
Dan Bird – Bass
John Watt – Drums.
How and when did the band form? Tell us anything interesting about your hometown.
An early iteration of the band, under the moniker "Onirica", found its origins in the songwriting collaboration of Jack Thorp, Rob Hall and Dav Carroll back in 2004. These original songs had a strong influence of the 90's melodic death and doom metal scene. Whilst performing live locally a number of times, various member changes over the years however, caused Onirica to lose momentum.
Whilst Jack and Dav never stopped writing over the years, it wasn't until late 2016 that new music was brought to life under a new name "Fjords", and the two approached October File and session drummer John Watt with a proposition to work on the project. Returning Onirica bassist Dan Bird and Ben Sizer, the guitarist and songwriter behind Jack's other band, another long serving Nottingham act "Twilight's Embrace", completed the new line up.
Whilst Robin Hood may be the most famous historical character, an Anglo-Saxon chief called Snotta gave his name to what is now known as Nottingham in 600 AD. Nottingham used to be called 'Snotingham', literally meaning the town of snot people. Thankfully the name didn't remain.
When and how did the band really start gelling and solidifying?
Throughout 2017, in preparation for and recording of the debut single "Ode to the Albatross" we really began to gather momentum.
Who are your musical influences?
The majesty and melancholy of European death/doom metal like Novembre, Katatonia, Agalloch, and Borknagar fused with the progressive approaches of Opeth, Tool and Leprous. Always under the influence of a deep appreciation of the sweeping atmospheric music present in film and game soundtracks.
Where did the name of the band come from?
From 2004 to 2016 the band made music under the name of Onirica, a word derived from the greek word oneiros, meaning 'dream'. The deviation was also a tip of the hat to long time influence, Novembre. After an evolution of sound and line up changes, the name Fjords was adopted. The new name felt right for the music we were creating, drawing parallels with the wrath and serenity of nature.
How far back does your history with each other (the band members) extend? Are you friends from school or any family relations?
We have known each other for many years, the underground metal scene in Nottingham is a small but dedicated community. Whilst in some cases it wasn't until joining the band that we got to know each other properly, there has always been shared experiences and memories of Nottingham music over the years that has united us.
In your opinion, how is your band different from all the other bands out there?
There are so many talented and varied sounds out there, it is hard to be uniquely different as a band now. That being said, what we see as special in our music is a strong influence from the music we grew up with, in unity with modern takes on progressive and atmospheric music.
If a deaf person were to ask you to describe the sound of your music, how would you describe it?
Like the duality of the natural world, light and dark, wrathful and serene. The crashing of waves and the still cold mist of an early morning.
Where can we find your social media sites?
Facebook: www.facebook.com/fjordsofficial
YouTube: www.youtube.com/fjordsofficial
Twitter: @fjordsofficial
Instagram: @fjordsofficial