Final Coil are a three piece unit from Leicester and are signed to WormHoleDeath Records. Combining elements of post-rock and progressive, the band's acclaimed debut, Persistence of memory, drew comparisons to Tool & Pink Floyd. This, their second album, therefore has a lot to live up to.
The album spawns a beautiful opener in 'Ash's'. A tranquil intro with some inviting sliding guitars. The build up in this is great and leads perfectly into 'The Last Battle'.  This reminds me of Filter's 'Hey Man Nice Shot'. There's some nice Alice In Chains style harmonies in this track. It's what I call a slow burner. It chugs along at a steady pace. Lovely.
'Scattered Dust'  gives me the impression that I'm not listening to an album here, but a story. A tale. Heavily inspired by Alice In Chains, it's dark, slow, yet mesmerising beat keeps you hooked. Wandering guitar work in the verse keeps you waiting for more. The transition from verse to chorus is stunning. It's nothing special, but works in such a special way. Difficult to describe, yet so easy to admire.
The content and production of this album make it a dark, depressing affair. But what's great about albums like this is that they allow you to be lost within them. They open the door for you to leave the outside world for an hour or so, and I just love it when that happens.
'Take Me For A Walk'  boasts some beautiful dual guitar work at the intro. Similar to early Smashing Pumpkins. Another slow burner with a penetrating doom riff. The three minutes that this instrumental lasts for flies by. Each section here keeps you waiting for the next, and when this happens you know you're hooked. 'Empty Handed'  boasts similar qualities.
The ability here to mix tranquillity with piercing riffs on an even scale is totally evident in 'Keeping Going'. Like a machine, this album just keeps chugging along. 'Convicted Of The Right',  yet another example. In fact, Final Coil are following a strict, yet successful formula here. Why change? I'll re-phrase that. Don't change.
'Ashes Ashes'  and 'One More Drink'  offer a sort of combined interlude. Shades of Pink Floyd in the latter. A beautiful lament-style piece to bring us into '…And I'll Leave'.  I'm sure I'm hearing similarities with Bush here too. Lots of Pink Floyd style song titles knocking around.
The album finishes with two remarkable tracks. The first, 'Imaginary Trip',  a whopping seven and a half minutes long. Peaceful, mesmerising, anthemic, powerful, beautiful. Just beautiful. A song to fall deep into a false world to, and never come out. And title track 'The World We Left Behind For Others', clocking in at a staggering ten and a half minutes. An intro like no other. Slow, lazy, but perfect. It glides along carrying some clever riffs with it, and it needs to be heard to be believed.
Congratulations Final Coil. An absolute pearler of an album.
Track Listing: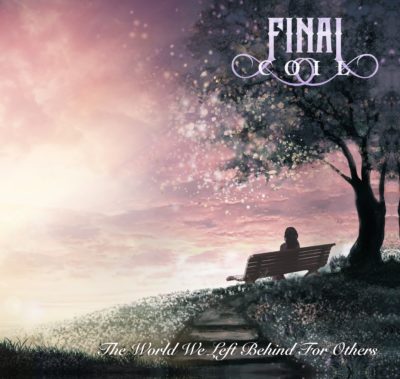 1 – Ash's
2 – The Last Battle
3 – Scattered Dust
4 – Take Me For A Walk
5 – Empty Handed
6 – Keeping Going
7 – Convicted Of The Right
8 – Ashes Ashes
9 – One More Drink…
10 – …And I'll Leave
11 – Imaginary Trip
12 – The World We Left Behind For Others
Line-up:
Phil Stiles – Lead Vocals / Rhythm Guitars
Richard Awdry – Lead Guitars / Backing Vocals   /   Jola Stiles – Bass / Design
Links:
Release date: 12/04/19. Length: 58mins 12secs. If you relate to any of the tagged bands in this review, then this album will be staggering for you.