On 31st  March Ferocious Dog release a deluxe remastered version of their self-titled album on Graphite Records. Mixed and mastered by Al Scott the album will be available as a double CD; the second CD will include a number of live tracks from the band's O2 Academy Leeds show from 2022. 
To coincide with the release Ferocious Dog will play a unique show with a full orchestra at the Barbican in York on Saturday 1st  April;  the two-hour set will include the band playing the entire debut album.
To celebrate the 10-year anniversary of their self-titled debut album, Ferocious Dog unveiled a brand new video – 'Too Late 2022', an updated version of live favourite 'Too Late' from the album. Watch the video here:
"I wrote this song many years ago for someone I was close to at the time. It was her childhood story" explains Dan Booth.
"It's great that we could put a new twist on it. It's far more relevant now to how we sound live and I love that the legendary Al Scott decided to mix and master the song." 
Also, on 5th May Ferocious Dog release 'Live At Rock City' CD on Graphite Records. 'Live At Rock City' was recorded in April 2022 on The Hope tour and features the band performing songs 29 songs.
Thought-provoking and politically charged lyrics, seamlessly combining with dynamic and eclectic music – Ferocious Dog seem to have the knack of evolving their sound enough to pique your interest, without losing any of the sound or attitude that made you fall in love with them in the first place.
To preorder / pre stream Ferocious Dog (Remastered)and Live At Rock City go to: https://linktr.ee/FerociousDog
Disc 1 – Ferocious Dog (Remastered) track listing.
01 The Glass.
02 Lee's Tune.
03 On The Rocks.
04 Too Late.
05 Freeborn John.
06 Hell Hounds.
07 Quiet Paddy.
08 Lyla.
09 Criminal Justice.
10 Pocket Of Madness.
11 Blind Leading The Blind.
12 Freethinker.
13 Mairis Wedding Pt II
14 Paddy On The Railway.
15 Verse For Lee.
Disc 2 – Live At Leeds Orchestral track listing.
01 Landscape Artist.
02 A& B.
03 Class War.
04 Mairis Wedding Pt 3
05 Yellow Feather.
06 1914.
07 Justice For '96.
08 The Demon.
09 Broken Soldier.
10 Lacey-Lee.
11 Criminal Justice.
12 Blind Leading The Blind.
13 Too Late (2022)
Following this special show on 30th April, the band host their Dogfest Festival in April, with further headline shows and festival appearances including the Rebellion and Beautiful Days festivals plus Wacken Open Air Festival in Germany.
There is a number of tickets for the Barbican gig that can be purchased as a bundle with the re-released debut album.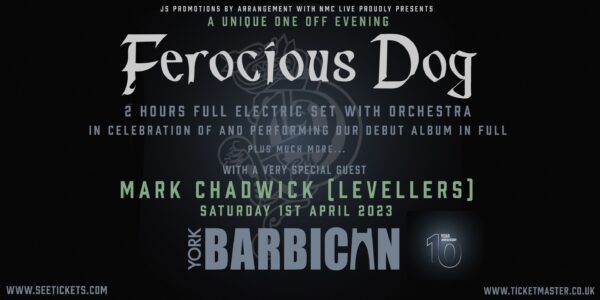 Ferocious Dog 2023 tour dates:
March
Thu 9th Knust Hamburg Germany
Fri 10th Underdogs' Prague Czech Repulic
Sat 11th Backstage Halle Munich Germany
Mon 13th Gebäude 9 Cologne Germany
Tue 14th Colos-saal Aschaffenburg Germany
Thu 16th Little Devil Tilburg Netherlands
Fri 17th Melkweg Amsterdam Netherlands
Sat 18th Entreportaion Arion Belgium
Sun 19th Luxor Live Arnhem Netherlands
Mon 20th O'Sullivans Backstage By The Mill Paris France
Sat 25th Corporation Sheffield
Sun 26th Scarborough Punk Festival Scarborough

April
Fri 1st Barbican York
Sat 22nd Dogfest Boston
Fri 28th Old Fire Station Carlisle
Sat 29th Northern Kin Festival Durham
Sun 30th Teddy Rocks Festival Dorset

May
Sat 6th Labadoux Festival Ingelmunster Belgium
Thu 11th Queen's Hall Nuneaton
Fri 12th Tunes in The Dunes Cornwall
Sat 13th O2 Academy Leicester

June
Fri 2nd The Georgian Theatre Stockton-on-tees
Sat 3rd North West Calling Manchester
Fri 9th Here For The Music Bideford
Fri 16th Sign Of The Times Church End
Sat 17th Docks Academy Grimsby
FrI 30th Victoria Hall Settle

July
Sat 1st Victoria Hall Settle
Sun 2nd Victoria Hall Settle
Sat 8th Ely Folk Festival
Sat 15th Jurassic Fields Dorset
Fri 21st The Devils Arse Castleton
Sat 22nd Beautiful Day Out Leeds

August
Wed 2nd Wacken Open Air Festival Germany
Sat 5th Rebellion Festival Blackpool
Fri 11th Lakefest Ledbury
Thu 17th The Drill Lincoln
Fri 18th Guildhall Gloucester
Sat 19th Beautiful Days Ottery Saint Mary
Fri 25th Solfest Cumbria

September
Fri 1st Lindisfarne Festival Blyth
Sun 3rd Acapela Studio Cardiff
Thu 21st Club 85 Hitchin
Fri 22nd The 1865 Southampton
Sat 23rd Roadmender Northampton
Sat 29th Robin 2 Bilston
Sat 30th The Waterfront Norwich

October
Fri 6th Oran Mor Glasgow
Sat 7th La Belle Angele Edinburgh
Thu 12th Esquires Bedford
Fri 13th Boiler Shop Newcastle Upon Tyne
Sat 14th The Birdwell Venue Barnsley
Tickets available from: https://www.ferociousdog.co.uk/events
Ferocious Dog's current live lineup: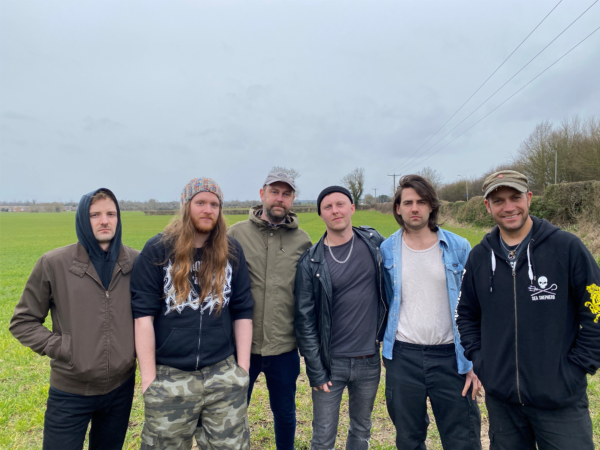 Ken Bonsall – Lead singer & acoustic guitar.
Sam Wood – Multi-instrumentalist.
Kyle Peters – Guitar
Nick Wragg- Bass
Luke Grainger- Drums
Jamie Burley – Violin