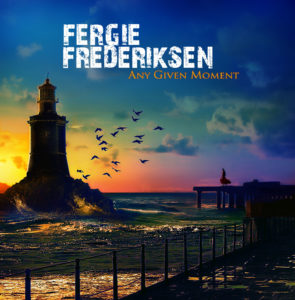 Dennis "Fergie" Frederiksen (Toto, Frederiksen/Philips, Mecca, LeRoux) is an inspiration. His long and storied music career continues strongly, despite advancing age and failing health. Frontiers Records brings listeners his newest material, 2013's Any Given Moment. Produced by Alessandro Del Vecchio, this record has 11 tracks of melodic, smooth rock and roll. This disc is a followup solo effort to 2011's Happiness Is The Road.
For health reasons, Frederiksen is not able to perform live except at highly select, widely-spaced dates (such as with the 'Legends' group at Nottingham's Firefest X on October 20). The release thus has to be interpreted as a studio-only effort. Additionally, he's been saddled by a quasi-requirement to give a studio-only creation as much impact as a toured release, due to tumult within "the music industry". With this record, Frederiksen and Del Vecchio have given us well-crafted, highly melodic, album-oriented rock.
For those who want to reminisce about the glory days of 80s AOR, this album hits the spot. With songwriting, production, keyboard and backing vocal credits, and a stable of capable fellow Italian musicians playing on the release, it could almost be billed as a Del Vecchio project. Instead, it is a wonderful collaboration, pairing and flexibly blending Del Vecchio's and Frederiksen's talents. Some of the songs evoke a very strong 1980's (Toto, Journey, and other AOR legends) feel. Del Vecchio seems to have harnessed the essence of 80s AOR, channeled it, and allowed it to flourish and blossom on Frederiksen's newest disc.
This being billed as the solo effort of a vocalist, it should go without saying that the vocals are one of the superlative 'greats' on the album. With a natural higher range well-suited to his AOR niche, Frederiksen deftly hits, and holds, many notes. The lyrical themes and verses are wonderful, broadly exploring topics which could interest or uplift 'all humanity'. Lyrical themes, coupled with Frederiksen's capable voice, entice close and engaged listening. The melodic bent and slower tempos in the tunes generally don't encourage that 'get up and dance' reaction – instead, after a few listens, it ends up very nicely 'sing along'.
"Price For Loving You" has some very lyrical keyboard work, sequenced along with traditional lead guitar. The lead guitar line and solo passage in "Time Will Change" is highly melodic and strikingly beautiful. There's even a sugary ballad, "How Many Roads", and a duet with female vocalist Issa Oversveen on "Not Alone". As a nod and treat to Toto fans worldwide, Frederiksen has included a rockin' cover of "Angel Don't Cry", from Toto's 1984 release, Isolation.
The album is quite balanced, with most instruments at roughly the same 'level' within the crisp mix: drums, rhythm guitar, bass guitar, and backing vocals are definitely present but not overwhelming. Keyboards, vocals, and guitar solos all take center stage from time to time. One interesting thing about the disc is how many guitarist guest appearances there are: no fewer then seven axemen ply their trade here, but the finished product is so smooth that you'll think there are, at most, two or three. Any Given Moment sounds capable, polished, and professional.
Any Given Moment is quite keyboard heavy: the entire album is heavily reliant on synthetic sounds (keyboards, effects). For a guitar-oriented rock listener, this can be very off-putting unless they're able to hear past that self-imposed limitation and enjoy the music for what it is: accessible, strongly melodic, mild rock. Some of the material is definitely aimed towards a more mature listening audience, in that it's rock without 'edge' – it has a mildness, politeness, or innocence to it, that music geared towards a younger audience may lack. Because the album fortunately isn't saturated with distortion, close careful listening can reveal a few recorded breaks in vocal phrasing. Speaking of the sheer number of guitarists on the album, some of the solos are 'punched in' just a little louder then others: if you're listening for some flash, this will be a welcome surprise.
Here, on Any Given Moment, Fergie Frederiksen schools aspiring musicians to look beyond physical limitations, music industry drama, and hopelessness, to chase their dreams, meet their goals, and see the beauty in humanity and all around them.
Track Listing:
Last Battle Of My War
Let Go
Price For Loving You
I'll Be The One
Time Will Change
How Many Roads
Candles In The Dark
Any Given Moment
Not Alone
When The Battle Is Over
Angel Don't Cry
Band Lineup:
Fergie Frederiksen – lead vocals
Robert Sall, Bruce Gaitsch, Walter Caliaro, Peter Friestedt, Alessio Berlaffa, Sven Larsson, David Coyle – lead and rhythm guitars
Nik Mazzucconi – bass, fretless bass
Herman Furin – drums
Alessandro Del Vecchio – keyboards, background vocals
Roberto Tiranti – background vocals
Issa Oversveen – duet vocals on "Not Alone"
Link:
Official website