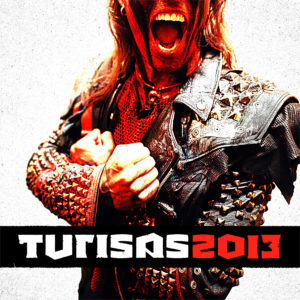 Due to be released in the UK on 2 September 2013, Turisas2013 is the latest offering from the Finnish metal band.  Only two years since Stand Up And Fight was released, this is a quick turnaround and as well as a change from the previous releases by not being a concept album.  Progression has been a key element to the previous albums and so I was very interested to see what their fourth release would bring.
"For Your Own Good" kicks things off very theatrically, which combined with the warning that this album is a departure from its predecessors leaves you wondering exactly what way things will go. On first listening I must admit it sounded disjointed and awkward in places, the same way that "Ten More Miles" didn't seem to fit with the ending of "For Your Own Good".  If you loved the sound and feel of the previous two albums then you may well at first be somewhat unsure of the new offering. However, stick with it. In fact if you feel that way press STOP and go back to the beginning because on further listening you'll hear that actually, "For Your Own Good" isn't awkward or disjointed at all, and "Ten More Miles" is not badly placed. There is no sameness or consistency with the tracks on this new album; they were written to stand on their own two feet.  It could well be this that made "Ten More Miles" seem badly placed on the initial listening as there is a quick momentum shift with the second song.
Although there is a clear progression with the new album, there are many aspects that are inherently Turisas-like and that remind you of previous albums.  Whichever of those you like best, you will enjoy "Piece By Piece" as for me it combines a lot of these elements. It's got the mixture of singing and growl vocals, a steady beat throughout and a sound that would fit well with the theme of The Varangian Way. The beat picks up considerably for "Into The Free", which I'm sure you would have heard by now having been released online some time ago. It's got a great driving, consistent drum beat with a calmer overlaying melody. There's good use of group backing vocals in this track and to me it's another one that reminds me of their recorded legacy. Speaking of which "Run Bhang-Eater, Run!" automatically brings "In The Court of Jarisleif" to mind. It is a bit of a mixed bag this song, with a party beginning combined with heavy vocals at the start and later as well. Towards the end it slows down with Arabian influenced guitars which are preceded a 70's style jazz groove with the addition of a woman who sounds as if she's having her own little party (will be interesting to see how that is incorporated into the live shows).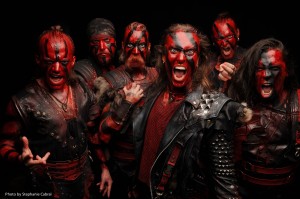 Up next is "Greek Fire", a good example of the suggested change in this album. If you're looking to test the waters then go straight to this song. The sound of guitars are prominent throughout, varying in mix so they don't always fit under the vocals as you would expect. At times they move centre stage with the vocals taking a back seat. This is a good example of the less polished sound of the album and it's all the stronger for it. "The Days Passed" is another song which will again appeal to all fans with its rousing beginning which cements the heavy vocals in the chorus. It is the verses that show signs of progression in Turisas' song writing, with influences from the 80's and 90's reminding me of David Bowie's "White Wedding". After this there's another musical change of direction with the brilliant "No Good Story Ever Starts With Drinking Tea". I have no idea what is being sung most of the time, but that doesn't matter at all. It had me smiling within the first few seconds all the way to the end and it consistently does, despite the numerous times I've played it (especially with the addition of Smurf like vocals singing a line of two from "The March of The Varangian Guard"). With words like 'Alcohol…all night long' after 'No good story ever starts with drinking tea' and the seriously upbeat rhythm, it's entertaining as hell. It is also nice to hear just a simple fun song, and with a more stripped back sound it's a bit of a relief from the previous album.
"We Ride Together" brings the album to a close and is definitely well titled as it brings to mind images of heroes riding off into the distance on horseback. Once again I hear earlier rock influences throughout which I thoroughly approve of. The cinematic sound gives it that silver screen ending and the promise of an equally strong sequel, which makes it a good song and the perfect way to finish the album. As I've mentioned previously, it took me more than one listen to settle into the flow of the album as well as the different aspects of the songs themselves. When you get the album, try thinking of each song as a chapter in a book, compiled of a different story per chapter but in the same genre and this is what Turisas2013 is. There are several aspects that each of the songs have in common and one is their upbeat nature; this is not an album to meditate to, it's full of fervour and entertainment. As with all progressions, I suspect some may struggle to accept the change, but as I mentioned, there's so much that is inherently Turisas sounding about the album that it's not really a departure, more of an advancement. Personally, I found Turisas2013 much easier to listen to (both from start to finish and on random) that both its predecessors, perhaps because of the individual nature of the songs. Whatever the reason….I can only wholly approve. Top work!
Track Listing
For Your Own Good
Ten More Miles
Piece by Piece
Into The Free
Run Bhang-Eater, Run!
Greek Fire
The Days Passed
No Good Story Ever Start With Drinking Tea
We Ride Together
Line-Up
Mathias Nygård (vocals)
Jussi Wickström (guitar)
Olli Vänskä (violin)
Robert Engstrand (keyboards)
Jaakko Jakku (drums)
Jesper Anastasiadis (bass)
Websites
Don't forget to buy your tickets for their upcoming UK headlining tour:
09.10.2013 (UK) Bristol – The Fleece
09.10.2013 (UK) London – O2Academy Islington
10.10.2013 (UK) Nottingham – Rock City
11.10.2013 (UK) Glasgow – Cathouse
12.10.2013 (UK) Manchester – Club Academy