Bay Area masters of atmospheric technical death metal FALLUJAH have unleashed their monumental 5th studio album, "Empyrean," today with Nuclear Blast. Receiving rave reviews from critics around the world and legions of fans championing their return, FALLUJAH has emerged with one of their best records to date. On their latest epic journey the band explores new sonic realms while revisiting past influences and styles, captivating listeners along the way with Scott Carstairs' massive riffs and guitar wizardry and new recruit Kyle Schaefer's seething vocals. Strap in and witness a cataclysmic collision of atmospheric death metal.
In addition to the record's release, FALLUJAH has debuted a visualizer for the song "Mindless Omnipotent Master."
Watch it here: 
Primary songwriter and guitarist Scott Carstairs says of the song:

"'Mindless Omnipotent Master' is about the massive, globally-linked systems of technology and society that were created for humankind's own benefit, but have now grown into self-sustained forces beyond our control. The music sets an appropriately dark tone with four minutes of relentlessly brutal riffs and mechanically sharp precision."

Carstairs adds about the album's release:

"It feels surreal to finally share our new album Empyrean with the world! We can hardly describe the amount of effort, determination and patience it took to arrive at this point, but now that the day is here we can finally say that everything was worth it.

Special shoutouts to the fans who have stuck with us for all these years. We hope Empyrean can take you on an immersive journey with enough detail to warrant many repeated listens."

Purchase "Empyrean": https://nblast.de/Fallujah-Empyrean
Stream "Empyrean": https://bfan.link/Fallujah-Empyrean
"Radiant Ascension" Audio Stream: https://bfan.link/Fallujah-RadiantAscension
"Soulbreaker" Audio Stream: https://bfan.link/Fallujah-Soulbreaker
"Embrace Oblivion" Visualizer: https://youtu.be/oiUFDMCMp7U
Photo credit: Stephanie Cabral
Venture into Fallujah's exosphere on "Empyrean." They're waiting for you.
FALLUJAH – European tour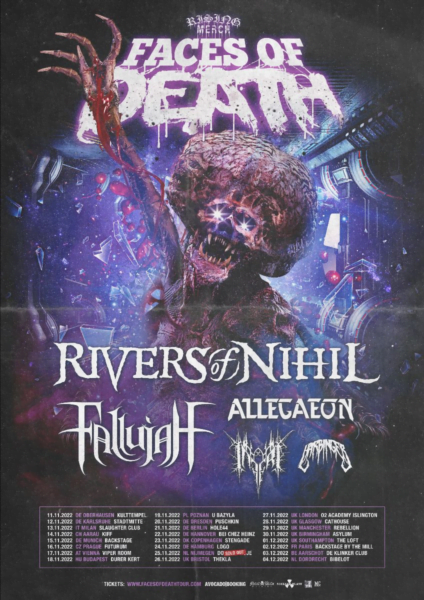 Bay Area tech death masters FALLUJAH have announced that they'll be appearing on the Rising Merch Faces Of Death tour alongside Rivers Of Nihil, Allegaeon, Inferi and Harbinger.
RISING MERCH "FACES OF DEATH" TOUR 2022
Featuring: Rivers Of Nihil, Fallujah, Allegaeon, Inferi, Harbinger

11.11.22 Germany Oberhausen @ Kulttempel
12.11.22 Germany Karlsruhe @ Die Stadtmitte
13.11.22 Italy Milan @ Slaughter Club 
14.11.22 Switzerland Aarau @ KiFF
15.11.22 Germany Munich @ Backstage
16.11.22 Czech Republic Prague @ Futurum
17.11.22 Austria Vienna @ Viper Room
18.11.22 Hungary Budapest @ Dürer Kert
19.11.22 Poland Poznan @ U Bazyla
20.11.22 Germany Dresden @ Puschkin
21.11.22 Germany Berlin @ Hole44
22.11.22 Germany Hannover @ Béi Chéz Heinz
23.11.22 Denmark Copenhagen @ Stengade
24.11.22 Germany Hamburg @ Logo
25.11.22 The Netherlands Nijmegen @ Doornroosje SOLD OUT
26.11.22 UK Bristol @ Thekla
27.11.22 UK London @ O2 Academy Islington
28.11.22 UK Glasgow @ Cathouse
29.11.22 UK Manchester @ Rebellion
30.11.22 UK Birmingham @ Asylum
01.12.22 UK Southampton @ The Loft
02.12.22 France Paris @ Backstage By The Mill
03.12.22 Belgium Aarschot @ De Klinker Club

Tickets & info: www.facesofdeathtour.com
About FALLUJAH:
Tech-metal outfit Fallujah intensify their metallic dynamism on stunning new album, "Empyrean." Built on an "all killer, no filler" maxim, the Bay Area-based quartet delivered just that on album number five. From video single "Radiant Ascension" and "Embrace Oblivion" to "Soulbreaker" and "Mindless Omnipotent Master," "Empyrean" is breathtaking in atmospheric expanse and impressive in sophistication. Fallujah's overhauled lineup has contributed massively to the level-up on display. Primary songwriter/guitarist Scott Carstairs and compeer/drummer Andrew Baird enlisted Archaeologist's Kyle Schaefer and Evan Brewer (formerly Entheos/The Faceless) as their new vocalist and bassist, respectively.
Since forming in 2007, Fallujah have triumphed over their challenges. Whether it's self-administering the band, going to school, writing music, or working full-time, they've savoured release of and diehard fan admiration for five albums in "The Harvest Wombs" (2011), "The Flesh Prevails" (2014), "Dreamless" (2016), "Undying Light" (2019), and their latest "Empyrean." Indeed, diligence and creative enterprise have resulted in high-profile tours with Whitechapel, Suffocation, The Black Dahlia Murder, and more across North America, Europe, and Australia. Fallujah also prospered with critics in Metal Hammer, Allmusic and Metalsucks. The group's Billboard chart positions on the Top Hard Rock Albums and Heatseekers Albums prove that with every twist and turn, Fallujah's fans are with them. "Empyrean," with its revivalist spikes, bolstered atmospherics and high-powered production, is the greatest yet.
"Empyrean" is a specialist's paradise. As a rhythm/lead player, Carstairs enters a league of his own. Tracks like "The Bitter Taste of Clarity," "Radiant Ascension," and "Eden's Lament" illustrate he's upped his chops and boosted the emotional outlay. Throughout, he's careful about compositional placement and how his radiant, palliative leads complement Fallujah's sapid landscape. Drummer Baird tastefully and aggressively holds down the fort, grooving and syncopating admirably on "Radiant Ascension," "Embrace Oblivion," and "Mindless Omnipotent Master." Fallujah's long-standing timekeeper has always been great, but on "Empyrean," he's superior. Right there with him is recently joined bassist Evan Brewer, thundering and bopping on, around, and against Baird's foundation like a seasoned prizefighter. "Duality of Intent" is but one of Brewer's standouts. Although known for his guitar work outside of Fallujah, newcomer vocalist Kyle Schaefer's low-end and mid-range bark perfectly matches the existential threat-themed lyrics.
Throughout "Empyrean," Fallujah surprise. Musically, lyrically, and with their bevy of guests, they add hard-to-describe depth and musical import. Vocalist Tori Letzler (Batman V Superman: Dawn of Justice) reprises her angelic role on "Radiant Ascension" and "Artifacts," while Chiasma's Katie Thompson also reappears to elevate "Embrace Oblivion" and "Into the Eventide." Chaney Crabb of Entheos and Cyborg Octopus's David Wu tender their considerable talents on "Mindless Omnipotent Master" and "Duality of Intent," respectively. Celebrated artist Peter Mohrbacher (Serenity in Murder, Rainbowdragoneyes) replays his role on "Empyrean" as well. Truly, this is an all-star cast appearing on a momentous album by a band reaching beyond.
"From the beginning of this writing process and until the end, we painstakingly made sure every aspect of this record would blow away our listeners," states Carstairs. "We meticulously scrutinized every riff and note choice. There has never been this much effort put into a Fallujah record as we did with 'Empyrean,' and the result is a truly monstrous record that we believe is the band's best work by a significant margin. We showed you restraint on the last record. Now, let us show you what happens when we leave it all on the table."
Visit FALLUJAH:
www.facebook.com/fallujahofficial
https://twitter.com/fallujahbayarea
https://www.twitch.tv/fallujahofficial
www.nuclearblast.de/fallujah