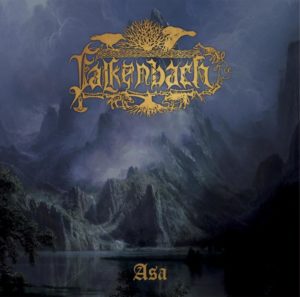 Asa, the latest studio release from one-man-band Falkenbach, delights us with intense electric guitar, folk elements, abundant melody, varied tempos, and fluent usage of a near-extinct Germanic language.
Ranging from the sub drop and blastbeat to the pan flute and acoustic guitar, this 'Viking metal' record is packed with consistent, moderately ambitious, and bleak-yet-crisp tunes.
Sound quality is excellent.
Plenty of raging distortion ("I Nattens Stilta"), double bass drum ("Bluot Fuer Bluot", "Bronzen Embrace") and abrasive vocals are juxtaposed to clean-sung passages, airy acoustic guitar ("Eweroun"); even whistling.
Relatively simplistic in arrangement, Asa is relentless, very listenable, and enjoyable without dragging.
Tracklist:
Vaer Stjernar Vaerdan
Wulfarweijd
Mijn Laezt Wourd
Bronzen Embrace
Eweroun
I Nattens Stilta
Bluot Fuer Bluot
Stikke Wound
Ufirstanan Folk
Plus, bonus tracks included in the 2CD book edition:
Beloved Feral Winter
En Lintinbluitin Faran…
Return To Ultima Thule
I Svertar sunna luihtint
Link – Official Facebook Page