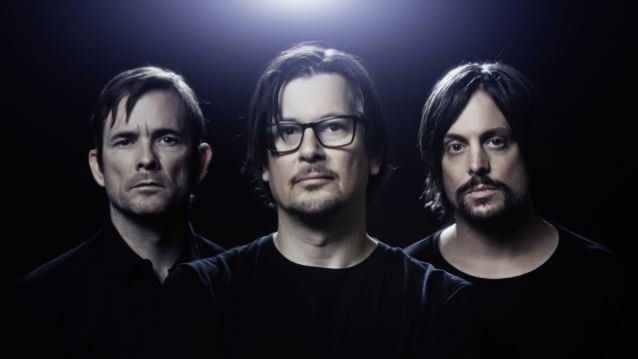 Los Angeles-based trio FAILURE will release The Heart Is A Monster, the band's follow-up to 1996's Fantastic Planet, on June 30 via INgrooves Music Group's artist services division, INresidence.
"Trying to follow up Fantastic Planet was a bit daunting," said Ken Andrews, who mixed the 18-song collection with the band acting as producers. "We've pushed the bar upward again, but at the same time, we've kept the signature sound of the band intact." "Thematically we've moved from the outer space of Fantastic Planet to inner space," explained Greg Edwards. "From the dislocation of one's identity to the complete erasing of it by sleep and dreams. I think we've used instrumentation in the service of mood and emotion to an even greater degree than on our previous records." "Failure is that rare band who define a sound that transcends space and time. They are truly iconic and their time is now. Listen," said Bryan Mead, INgrooves senior vice president of INresidence, about the new partnership.
In a recent interview with Noisey, Andrews admitted that by the time the band announced their first live outing, he, Edwards and Kellii Scott were already working on new music. He said: "One thing that Greg and I agreed on very early on is that we did not want to reform for just one or two nostalgia tours. We wanted to come back as a full functioning musical force and creatively pick up where we left off with Fantastic Planet. That meant we needed to start experimenting in the studio first, which we did in late 2013. After a few months, we came to the conclusion that we were having a good time and that we liked the results, and that we thought the results were definitely '"Failure"'. We've been chipping away at a new album this whole time." In that same article, Andrews and Edwards explained that their approach to writing and recording Fantastic Planet and The Heart Is A Monster have been similar, saying "The songs on Fantastic Planet appear more or less in the order that we wrote them… when, we do a song now, we write it and record it soup-to-nuts without moving to another song… It takes longer, but it makes more sense for us artistically to explore a song completely before you move on."
Failure's SXSW performance, which was the trio's first live outing since wrapping production on The Heart Is A Monster, included the new song "Hot Traveler", which Entertainment Weekly said "had every bit the sonic thickness, rhythmic thump, and melodic bite as favorites like "Another Space Song" and "Heliotropic"."
The band debuted "Hot Traveler" live at SXSW, and the official studio version was then premiered via BBC Radio 1's Rock Show with Daniel P Carter.
Failure formed in Los Angeles in the early '90s, releasing their debut disc, Comfort, in 1992 via Slash Records. Magnified followed in the spring of 1994 with the band's final offering, Fantastic Planet, released in 1996. Fantastic Planet earned a perfect 5-star score from Alternative Press, with the magazine saying the album was able "to breathe life into the corpse of contemporary, guitar-driven rock," adding that the band was "willing to stretch the definition of both their instruments and their songs." The 17-track album is considered one of the era's most influential and enduring rock records. Over the years, the band became known as a "band's band", whose songs have been covered by such diverse artists as A Perfect Circle ("The Nurse Who Loved Me") and Paramore ("Stuck On You"). Tool/A Perfect Circle singer Maynard James Keenan said, "Failure has been a huge inspiration to me. They say amateurs borrow and professionals steal. Well, over the years this pro has robbed those poor saps blind."
The band returned from a 17-year hiatus in early 2014 with a single Los Angeles date planned. The show sold out in seconds, which led to a North American tour, including a run of dates with Tool, and eventually led the band back to the studio.
Failure has a headline show 18 May at The Garage in London. Tickets go on sale 1 April, and can be purchased from Kili Live.
Stay up to date with Failure:
Official Website
Official Facebook Page
Official Twitter Page
Note: Special thanks to Blabbermouth and Consequence Of Sound for contributing to this report.