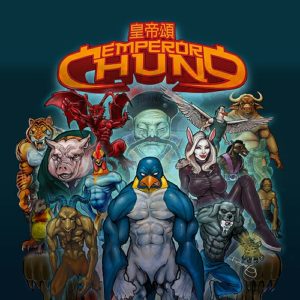 Emperor Chung's eponymous debut, released in 2013, establishes the young British band as a promising, multi-talented act to follow.
Musically, the 11-track album spans a variety of influences, from classic rock and elements of jazz fusion, to pop-punk and nu-metal.
For a debut, it's heavy on flash, but none of the tunes really implore a listener to 'get up and move'.
Apparently this is the audio equivalent to a comic book about a mutant penguin.
With technically stunning, prodigious musicianship on show here, it's ideal for someone who likes their accessible music just a little more complex then 'the norm'.
Here's a teaser:
Track Listing:
I Vow This Day
To Bring Justice
Downpour
My Next Foe
Pyramid
No Mercy
The Bloodline
Our Weaknesses
Victorys Calling
Apex
Free At Last
Band Lineup:
Martin Jackson – Vocals
Danny Beardsley – Guitar, Vocals
Richard Shaw – Guitar
Daniel Hayes – Bass Guitar
Eddie Hodgkinson – Drums