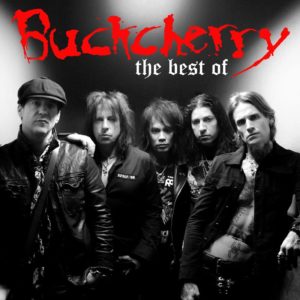 Music journalists are not supposed to get personal about things – but, then, a review is a personal opinion on the subject thereof, so we can't really help but do what we're not supposed to do, can we?  So, to speak personally at the outset, I find compilation albums both a blessing and a curse:  as a professional DJ, they fall very much into the former category, as 'greatest hits' or 'best of…' package allows you to carry pretty much most of what any one punter is going to want to hear on a given night – but, as a fan, they can be frustrating and provoke almost endless arguments as to whether they really reflect what is your personal opinion of what represents that particular act's 'best'  material.
Released on the cusp of a major European tour – and in the wake of the hotly discussed departure of bassist Jimmy Ashhurst – this particular compilation is a fairly accurate representation of where Buckcherry stand at this particular moment in rock 'n' roll history.  Inevitably based around the band's singles discography, it's a well thought out reflection of their six-album career:  I say its well thought out because it does not trace the fairly obvious sequential career path which so so many of these compilations follow, but attempts (and successfully) to reflect the approach of the band themselves to the aforesaid albums, by mixing fast songs with slow ones, light-hearted moments with those of a darker mien.
While they do follow sequence with the first three tracks, they then jump forwards and backwards in time to maintain a thoughtfully-paced rhythm, with the 'iconic' hit single 'Crazy Bitch' having to wait until the latter half of the album to make its appearance.  A surprisingly pleasant inclusion is 'Rose', the only song on here not to have been released as a single, but a firm fan favourite, especially live.
Buckcherry fans, of course, will have everything on this album (possibly in multiple formats depending on their dedication), and there is an argument for including a few tasty 'extras' to make it more attractive to same (and, going back to what I said earlier about individual choices, personally I was disappointed by the omission of 'Too Drunk…').  But, as I said, it's a timely demonstration of the band's ability to produce well-crafted, honest rock songs and definitely serves as a more than worthy introduction to those who perhaps are unfamiliar with their wider repertoire outside the obvious 'greatest hit'…
Tracklist:
Lit Up / For The Movies / Ridin' / Sorry / Next To You / Everything / Crazy Bitch / Rescue Me / Rose / All Night Long / Gluttony / Nothing Left But Tears
'Best Of Buckcherry' is out now on Eleven Seven Records.  YOu can order your copy by clicking on the Amazon banner at the top of the page.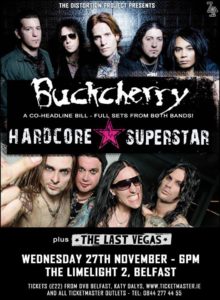 Buckcherry play the following co-headline dates with Hardcore Superstar across the UK and Ireland:
Friday November 22nd – Koko, London
Saturday November 23rd – Kasbah, Coventry
Monday November 25th – The Ritz, Manchester
Tuesday November 26th – O2 ABC, Glasgow
Wednesday November 27th – Limelight 2, Belfast
Friday November 29th – The Academy, Dublin
SaturdayNovember 30th – Rock City, Nottingham
Monday December 2nd – Academy, Bristol
Tuesday December 3rd – Solus, Cardiff
Wednesday December 4thg – Lemon Grove, Exeter
Support on all dates comes from Venrez, and tickets are available from all usual outlets.