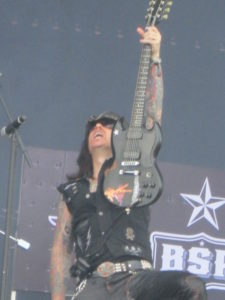 So, after a Friday of absolute mayhem, perhaps the Saturday of Download would be a more chilled out affair? You might have thought so too with UFO (6) opening the Main Stage; the audience wasn't the biggest but there was enough there to get heads nodding and 'Doctor Doctor' made its first appearance of the day out of the speakers. If they'd cut down on the extended guitar solos we might have had 'Shoot Shoot' as well, though. Young Guns (8), on the other hand, came out of the traps like a jackrabbit and powered through their set with gusto and precision, blowing away the cobwebs and kick-starting a mass sing-a-long with closing song 'Bones'. The crowd size decreased considerably for Thin Liz…I mean, Black Star Riders (9) which was a real shame because they proved to Download chief Andy Copping that he should have booked them instead of Buckcherry in the first place with an absolutely blinding set of hard rock bangers – having 'The Boys Are Back in Town' in your arsenal doesn't harm you either. What Mastodon (9) lacked in well-known songs they made up for in volume: to say they were loud is an understatement and they bravely battled more rain showers to give the Download audience a right treat. Out of their twelve songs, ten were from new album 'The Hunter', a real statement that the band believe in their new music and aren't about to play the hits to win over new fans.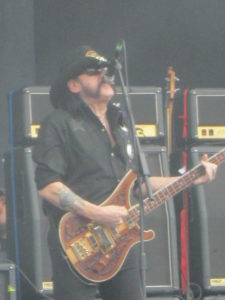 The rain had cleared by late afternoon and the lazy evening sun provided a great backdrop for Alice in Chains (8), who are keeping the grunge movement alive, well and, on the basis of 'Hollow' and 'Stone' from new album 'The Devil Put Dinosaurs Here' very fresh as well: both songs sounded excellent (even if the latter needed a restart due to a minor guitar fault) and stood up well to the likes of 'Them Bones' and 'Rooster'. The last time Motorhead (8) played a UK festival they misfired quite badly at Bloodstock in 2011, so to see Lemmy and the boys turn up the volume to 12 as opposed to Mastodon's 11 is an achievement in itself. They are definitely more hit than miss for an hour, but once again a couple of extended solos could have paved the way for another song in the set. You could be forgiven for betting on Queens of the Stone Age (8) to falter in front of a crowd hungry to see the headliners, but they are a very welcoming surprise, if a little self-indulgent in places. Songs like 'No One Knows' and 'Go With the Flow' provide a fantastic warm up for the main event and Josh Homme allows the music to do the talking for him.
When your introduction involves a Spitfire flying over the Main Stage and circling the Arena, you have to be able to follow that up with the show of a lifetime. Luckily for everybody in attendance, Iron Maiden (10) turned up with a 'start as you mean to go on' attitude. 25 years after their first headline show on the hallowed Donington turf, they returned with an almost identical setlist (based on their 1988/9 tour supporting 'Seventh Son of a Seventh Son') and laid waste once more on a record fifth headlining trip to the racetrack. 'Moonchild' was followed by 'Can I Play with Madness' and then the first rendition of 'The Prisoner' on UK soil since that original tour provided a brilliant one-two-three opening and the hits just kept on coming. 'The Trooper and 'Number of the Beast' lay perfectly alongside a recently dusted off 'Afraid to Shoot Strangers' and 'Run to the Hills' saw Eddie dressed as General Custer prowl the stage, fully twelve feet tall. But when it comes to an absolute highlight, 'Seventh Son of a Seventh Son' had the lot; Eddie as an Edgar Allan-Poe figure rising from the stage bowels flanked by burning lanterns, explosions from the rafters and live keyboard player Michael Kenney even popped up in a mask and behind a church organ to play alongside the boys. A spine-tingling 'Fear of the Dark' preceded a blitzing 'Iron Maiden' which saw the THIRD Eddie animatronic of the night in his 'Seventh Son' album cover form complet with moving womb and a triple encore of 'Aces High', 'The Evil That Men Do' and 'Running Free' wrapped up a triumphant evening for messrs Dickinson, Harris, Gers, Murray, Smith and McBrain. On the basis of this, you'll miss their London O2 date in August at your absolute peril, because they will get you – no matter how far.
Iron Maiden setlist (intros in italics)
Doctor Doctor
Moonchild
Can I Play With Madness
The Prisoner
2 Minutes to Midnight
Afraid to Shoot Strangers
The Trooper
The Number of the Beast
Phantom of the Opera
Run to the Hills
Wasted Years
Seventh Son of a Seventh Son
The Clairvoyant
Fear of the Dark
Iron Maiden
—–ENCORE—–
Churchill's Speech
Aces High
The Evil That Men Do
Running Free