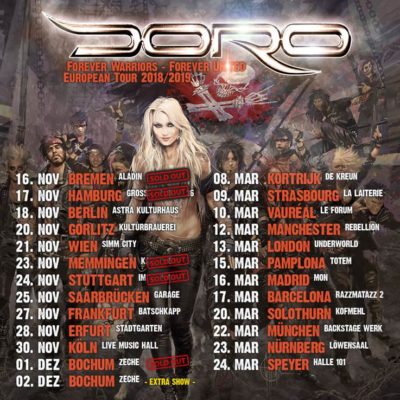 Fresh from her UK dates supporting Saxon, Doro is doing a handful of headline shows in Germany. As the Hamburg show was on a saturday night and didnt need any time off work to get there, I headed over to see her perform there.
The show kicked off early – by 7.30 the support band was over and Doro was starting her set. That's a bit of a shock when the tickets say doors are 7pm, but luckily I was there in time for Doro even if I sadly missed hearing the support. The reason for the early start appears to be the same as we get in the UK – a club night afterwards, but the curfew here isn't 10pm, it was 9pm, hence Doro being on stage so early!!
The place was packed out, and after grabbing a beer from the bar I found it wasn't possible to get anywhere near the front so settled back near the bar to enjoy the show. I've seen Doro perform quite a few times over the years, going back as far as her time with Warlock and she's always good so I was expecting a good night – and I wasn't disappointed.
She kicked off with "Raise your fist in the air" – a great heavy anthem to get the crowd going, and it certainly worked – the audience was a sea of people with their fists in the air. From there it was into some more heavy songs including Warlock songs "I rule the ruins" and "Burning the witches" as well as "Bastardos" and "All for metal" from her latest album (Forever warriors, forever united). With that album being a double album, with one half the heavier songs (Forever warriors) and the other being more ballads (Forever united) then I was expecting to hear more from the "forever warriors" disc than "forever united", and I was right to think they'd go down well in a live setting. We do get a couple of songs from the "Forever united" disc ("1000 years" and "It Cuts So Deep") and they serve to break up the otherwise relentless pace. A real highlight of the night was a surprise to me – the song "Für Immer" – an old Warlock classic. I've heard her play it live probably a dozen times, but tonight it just felt special – as she sang, most of the audience sang along too, and it really did feel moving. A beautiful moment. As well as songs from her career as Doro and half a dozen Warlock songs there was a cover – the Wacken Hymne (We Are the Metalheads), originally performed by Skyline. Given Hamburg's proximity to Wacken it's safe to say a lot of the fans here tonight are regulars at Wacken Open Air, and certainly plenty of people sang along.
As the curfew approached, Doro asked the audience what they wanted to hear for the last few songs, and one of the songs chosen from audience requests was her cover of Judas Priest's "Breaking the law". That was followed by the ballad "Herzblut" and then "Revenge" to end the night.
At the end they didnt even take a break – they'd already hit curfew but got permission to do one more song, and played another audience request – the Warlock song "Evil".
Still going strong over 35 years into her career, it's easy to see why Doro is referred to as The Metal Queen. This was another great performance from Doro and I'm sure she's got no intention of slowing down anytime soon. Hopefully we can look forward to a special 40 year anniversary show in a few years time.
Setlist
Raise Your Fist in the Air
I Rule the Ruins
Bastardos
Blood, Sweat and Rock 'n' Roll
Burning the Witches
All For Metal
The Night of the Warlock
1000 Years
Unholy Love
Soldier of Metal
Freunde fürs Leben
Für Immer
Hellbound
Drum Solo
Wacken Hymne (We Are the Metalheads)
It Cuts So Deep
All We Are
Breaking the Law
Herzblut
Revenge
Encore:
Evil