Caught this groovy three piece at a festival in the Waterloo Music Bar in Blackpool last April. First band on at 1pm since being on the road from 5am in London, District 13 tore the place apart so here they are now doing the same thing in the studio with their stonking debut album Soma. Available at £10 for a CD or £7 for a digital download, it's twelve track, hour long duration is a bargain!
Opener 'Wild Flowers' is a frantic fuzzed up riffathon with a barroom boogie vibe and a touch of menace in the vocals from Jon Wild adds a touch of ire as a scorching guitar solo from him midway is a taster for the wah wah one in the outro. 'Dark Horse' is another hefty riffer that builds from an almost whispered intro into a full on Motorhead like bluster. 'Shadows' is all bass guitar dominated melodic punk grooves from Richard Vanderpuije with cool, surf like guitar lines. 'Sweet Talk' is sonically heavy akin to early Wolfmother and snappy snare work from Asen Milushev add muscle to this fierce ditty. 'Cantankerous' lives up to it's title due to its vociferous vocal and Godzilla stomp grooves as an aural mugging comes from a raging guitar solo.
Some musically breezy punk pop comes from 'Vacation' but there are no sugar sweet vocals as Jon vehemently barks out his lyrics. Things slow down a tad as 'Is This The Way' is a power ballad with the emphasis being on power! 'When You Come Around' is a quirky tune of choppy riffs and surging bass lines. 'First Impressions' is a chugger of seismic proportions backed by some tribal drumming. Jams are well and truly kicked out in 'Detached' as it reaches wrecking ball levels of destruction. A heart wrenching vocal during 'When I'm Gone' is the foil for music that rises and falls in the gamut of emotions on display. Outstanding! Simply outstanding! The album finishes with the title track and my personal favourite here. 'Soma' is a six minute tour de force that covers all musical bases. It shifts to and fro from indie to Springsteen like working class grit, ending on a minute and a half mental instrumental freak out!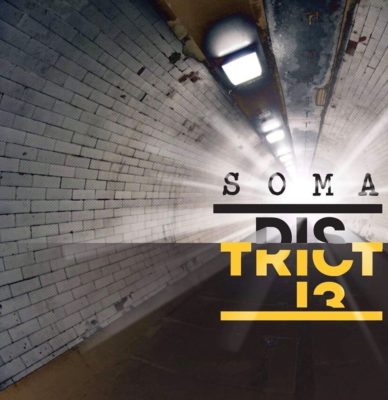 Soma album track listing :-
Wild Flowers.
Dark Horse.
Shadows.
Sweet Talk.
Cantankerous.
Vacation.
Is This The Way.
When You Come Around.
First Impressions.
Detached.
When I'm Gone.
Soma.
District 13 band line up :-
Jon Wild – Guitar/lead vocals.
Richard Vanderpuije – Bass guitar/backing vocals.
Asen Milushev – Drums/backing vocals.
Highly impressive debut from District 13.