Cornwall's finest psychedelic stoner rock band, Cybernetic Witch Cult, will release a new studio album this December following an extensive tour and video premiere in October.
As seen live at Bloodstock Open Air and headlining 2018's HRH's Doom V Stoner Festival second stage; Cybernetic Witch Cult's third album 'Absurdum ad Nauseam' sees the trio focusing and honing in on key sonic elements to elevate their own unique perception and create a heavier experience for listeners, without losing the progressive and 70s influences the band are well known for.
Watch 'The Myth of Sisyphus' (official music video): https://youtu.be/7gkjEhoLJRQ
"The song is about Albert Camus' philosophical essay 'the Myth of Sisyphus' which is all about struggle and the acceptance of an absurd universe", says vocalist/guitarist Alex Wyld. "For the music video we made a giant boulder out of cardboard, duct tape, bamboo and a mic stand and set about rolling it around the Cornish countryside.
For us as-well as being a metaphor for the humanistic struggles in life, the boulder represents the literal struggle of pushing an independent band around the country. We had a lot of fun making this video and wanted to keep it tongue in cheek, which fits the quote from Camus' essay.
There is no denying though that this album is quite a dark one for us as it has come from a general consensus of dread within the band about what the future holds for humanity", explains vocalist/guitarist Alex Wyld. "However, we have tried to poke some fun into the absurdity of it all. We like to think each song has some meaning and hope that our listeners will enjoy exploring some of the sonic themes."
With this new album, Cybernetic Witch Cult have produced their most complete work to date and built on the foundations of progressing their own sound in riff drenched science fiction (including Hitchikers Guide To The Galaxy, 2001: A Space Odyssey, and Dune) that musically drifts in whatever direction the mood of the band and its members take.
Intelligent, progressive whilst accessible, the songs on 'Absurdum ad Nauseam' reflect on troubling times in the world, notably climate change. Wyld says, " I first took climate change seriously at university in 2010: During my Astrophysics degree I opted for a course called 'Energy and the Environment' and during our first lecture a student asked the professors "what are our chances like?" and the lecturers gave a solumn look to each other and said "very bleak with the current state of affairs", everyone had a solemn feeling after that lecture and I think the state of things have gotten worse since then.
It's tragic to see that while there's more general awareness of the crisis now, there's also more (non factual) vocal opposition to climate science and crazy talk of conspiracy theories. 
I do worry for the future, and I think that's partly why this album turned out so much heavier and more serious than our older material. But you have to hope that things will improve and that the people who are in power will start to actually make some policy changes to safeguard our civilisation's future."
Ahead of the new album release, the South West stoner rock trio release the lead single and new music video for 'The Myth of Sisyphus' before heading out on the road for an extensive set of live dates.
Cybernetic Witch Cult's new release was recorded, mixed and mastered at 'The Crow's Nest' in London by Sam Thredder (Slabdragger).The album's unique artwork was designed by Aimee Wyld at Unlikeness Art.
'Absurdum ad Nauseam' is released 6th December 2019. Pre-order it here:
https://cyberneticwitchcult.bandcamp.com/album/absurdum-ad-nauseam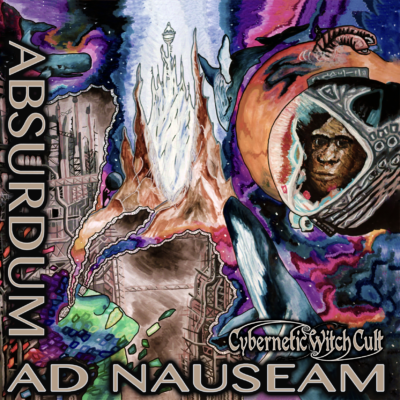 Tracklist:
1. Intro
2. Hypercomputer (Part 1)
3. Cromagnonaut
4. The Cetacean
5. The Ivory Tower
6 . Spice
7 . The Myth of Sisyphus
8 . Hypercomputer (Part 2)
Tour dates:
18th October – FALMOUTH – Jacobs Ladder
19th October – BANBURY – The Wheatsheaf
20th October – CROYDON – The Ship
21st October – PLYMOUTH – The Underground
22nd October – EXETER – The Cavern
23rd October – PORTSMOUTH – Edge of the Wedge
25th October – WEYMOUTH – Finns
26th October – SOUTHAMPTON – Firehouse
28th October – BRISTOL – The Lanes
31st October – NEWQUAY – Whiskers
2nd November – LONDON – The Unicorn
30th November – YEOVIL – The Railway Inn
14th December – LONDON – The Black Heart
20th December – PLYMOUTH – The Junction
Cybernetic Witch Cult are:
Alex Wyld – Vocals & Guitar
Doug MacKinnon – Bass Guitar
Lewis May – Drums & Percussion
Connect with Cybernetic Witch Cult:
Official Website: www.cyberneticwitchcult.com
Facebook: www.facebook.com/cyberneticwitchcult
You Tube: www.youtube.com/channel/UCw1_q_jWZ-gK1oh-4MQyyuw
Instagram: www.instagram.com/cyberneticwitchcultband
Bandcamp: https://cyberneticwitchcult.bandcamp.com
Twitter: https://twitter.com/cyberwitchcult