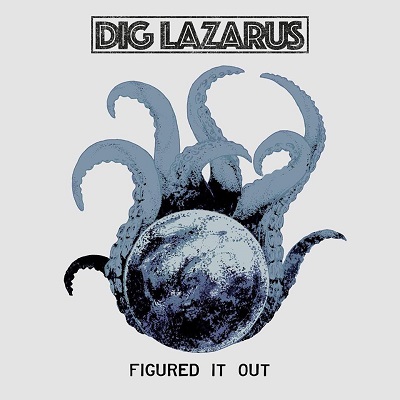 Currently available from the band and major streaming sites, this tasty four track EP titled Figured It Out should have you not taking too much time to figure out why it is well worth £5 by Nuneaton based trio Dig Lazarus!
Opening track immediately sets a high standard with the Audioslave tinged boom of 'Joker'. Prominent bass lines from Atticus Hall-McNair lock in with the sludgy guitar lines of Ash Tustain, who also delivers a very impressive melodic vocal. Rhythms ebb and flow over a majestic vocal during 'Tell Me Why' as it muscles up midway for a stoner rock midsection pounded out by Jack Cotterill on drums.
'Get Out' is a seismic bass guitar driven monster and this class EP ends far too soon with 'Outlaw'. Laid back vocals soothe as guitar and bass fuzz up to create the vibe of those Kyuss desert keg gigs with ease. I look forward to hearing a lot more from this band.
The thunder from down under............well Nuneaton really, from the melodic doom of Dig Lazarus.