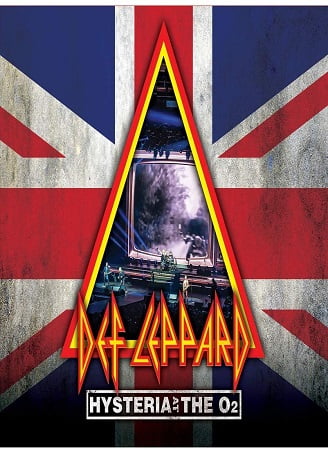 If like me, you remember "Hysteria" being released then you're officially old – it's over 30 years ago. It's an album that saw Def Leppard's popularity explode and they were constantly in the charts and on TV as the album spawned seven singles. To celebrate the 30th anniversary in 2017 the band released an anniversary edition then in 2018 followed it up by taking to the road to play the album in full plus a few extra songs. It was an impressive show – far bigger than you'd expect from a typical Def Leppard tour with some amazing visuals. The band played the O2 arena in London, one of their biggest indoor shows to date and decided to film it. That show is now available on DVD.
For this review I'm looking at the CD/DVD set. It's got the show on DVD and also on 2 CDs. That's always a good idea in my view – I can listen to the CDs when working, driving or whatever, but the DVD I need to sit down and watch specially so gets less use. The packaging is nice – the strong British branding is combined with photos. The booklet is full of great photos from their tour photographer, Kevin Nixon.
The CDs are excellent quality – a great live album, especially since it's got so many of their hits on it. As well as the Hysteria album they also played songs including "Let's get rocked" and "Photograph", and given the opportunity to come up with my ideal Def Lepaprd setlist I'm not sure there's much I'd change from this one.
The DVD is just as good. As well as the beautifully mixed sound, it's been filmed to a very high standard with multiple cameras (despite them only having decided very late on that they wanted to film the show) and it's nicely edited with enough changes of camera angle to help give that energetic feel to the show but without being so fast that it spoils it. As well as the entire concert there's also a short (ten minutes or so) behind the scenes film showing them preparing for the show and with the various band members talking about the Hysteria album, taking it on tour, and playing at the O2.
It's a great release for Def Leppard fans. Yes the band are older these days but then again so are many of their fans, but to see and hear the classic Hysteria album (one of the biggest albums in the history of rock) performed live in full is a real treat.
A great live release celebrating the 30th anniversary of a classic album.