@PlanetMosh gallery of .@DeathOffical in Dublin last year.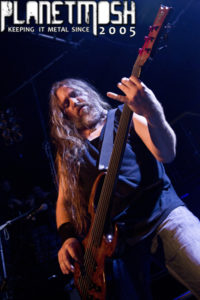 Back in November, Death DTA came to Dublin to celebrate the legacy of the music of Chuck Schuldiner. What went down was one of the better metal shows the city has ever witnessed as younger fans were given the opportunity to hear the music of Death played by musicians with technical prowess and flair. Sean Reinert,Paul Masvidal,Steve DiGiorgio and Max Phelps came together for an unforgettable evening.  Included on the night was nice intermission during which a Tribute video to Chuck was broadcast.
Support on the night was from Obscura and DarkRise.
Unfortunately, our reviewer's computer was fried and her review has been lost into the ether. Below is a gallery of images from the show.
Death DTA Setlist
Flattening of Emotions
Leprosy / Left to Die
Suicide Machine
In Human Form
Spiritual Healing / Within the Mind
Cosmic Sea
Intermission : Chuck Schuldiner Tribute Video)
Zombie Ritual / Baptized in Blood
Crystal Mountain
Spirit Crusher
Lack of Comprehension
Pull the Plug
Photos by Down The Barrel Photography