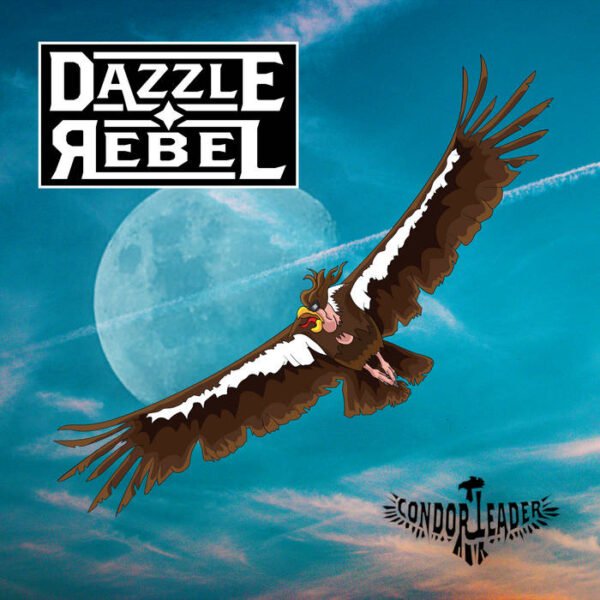 I'm a firm believer in not just listening to the music that the printed magazines want us to but to look further afield to bands who self release their own music point proven by Condor Leader, the debut solo album from Dazzle Rebel due to be released on July 23rd 2021. He's written all the songs, sung, played every instrument and sonically it's in your face due to being mixed and mastered by John JJ Watt.
Album opener 'Whiskey Man' has a feel good groove that flows with a cool as f**k vibe that brings to mind the Smooth era of Santana. Bullish bass guitar lines and snappy snare drums add a touch of muscle backed by a vocal so laid back it's almost horizontal as it rocks hard and heavy with powerchord fueled choruses.
A heart melting vocal weaves its way over sturdy hard rock riffing throughout 'Stop The Silence'. It hits the gas pedal midway for a guitar solo and full on drum outro.
'Blood Red Valentine' throbs on bass lines like 'Psycho Killer' which is no bad thing. It's a riff heavy headbanger to keep the air guitarists busy and the lyrics are delivered with a menacing croon to add an eerie scenario.
'Swan Song (Radio Edit)' has a simple but effective main riff that's the backbone for four freaky minutes of growling grunge tinged musing with wistful vocals as a brief dose of blues comes from a sweet guitar solo.
'Back Home And Sober (Radio Edit)' has party hard lyrics which we can all relate to when out on the lash. It's another hefty riffer to keep the recording levels in the red.
Jazzy chords are sublime in 'Condor' as they bring out the sun for this heart melting ballad. Brief keyboard flourishes are smooth as silk but the spotlight is stolen by an earworm guitar solo.
Album closer is the more snowflake unfriendly version of 'Swan Song' as it is delivered vocally with more piss and vinegar than the 'Radio Edit' take!
After over twenty years of being a bass player for hire, Dazzle Rebel has played with members of Guns And Roses, Red Hot Chili Peppers, Skunk Anansie, Alice Cooper, was also a founding member of Red Star Rebels, bassist in New Generation Superstars and guest bassist for Brides Of Destruction filling in for Nikki Sixx. https://dazzlerebel.bandcamp.com/album/condor-leader I https://dazzlerebel.net/ I https://dazzlerebel.net/music/ I https://www.youtube.com/channel/UChKYjtstzz1hbGSytzNPOkw
Condor Leader album track listing :-
Whiskey Man.
Stop The Silence.
Blood Red Valentine.
Swan Song (Radio Edit).
Back Home And Sober (Radio Edit).
Condor.
Swan Song.
Dazzle Rebel is not a rebel without a cause but with one due to the songwriting suss of Condor Leader.
£5 digital,£10 CD

editor rating