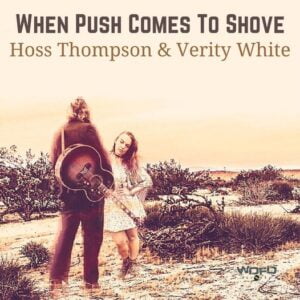 Here's a little ditty from the Motor City, well to be precise, Cumbria and Gloucestershire as Hoss Thompson from Thirteen Stars and Verity White join forces to bring even more sunshine to an already blazing summer as they team up for 'When Push Comes To Shove', recently released via WDFD Records.
It flows on an 'I Won't Back Down' vibe and its Country and Western roots are worn firmly on its sleeve but powerchords in the dynamic verses beef up this utterly charming collaboration between Hoss and Verity as Hoss's gnarly rasp and Verity's angelic delivery blend perfectly for four heart melting minutes of feel good flavours as a full on tour de force outro comes from forceful vocals and an earworm guitar solo.
Verity will also be playing with Hoss again, this time she will be joining him onstage when Thirteen Stars head out on the road for their UK summer tour dates.
Band and purchase links for the single can be found here :- https://www.facebook.com/ThirteenStars I https://www.facebook.com/veritywhiteband I https://ditto.fm/when-push-comes-to-shove?fbclid=IwAR2SjVswn05MslL_487cOmKbrq-2TNM-pmPqzprdAUVk5Lsym775o_tJ2l I https://amazon.co.uk/When-Push-Comes-To-Shove-Hoss-Thompson/dp/B095YRSBGX/?tag=plane09-21
'When Push Comes To Shove' pushes all the right buttons throughout this joyous single from Hoss Thompson And Verity White.