After the successful release of their latest 10th studio album 'Road To Eden'. DARE returns with an extensive 12-date tour, with special guest Troy Redfern; tonight is the tour's first date.
Darren Wharton formed DARE in the late 80s after the demise of Thin Lizzy for whom he was the keyboard player. They have had a roster of band remembers over the years including the now Professor Brian Cox – keyboards (1986–1992). Dare's first album 'Out of Silence was released in 1988.
Cue forward the band now celebrates 30-plus years in the business. Tonight they play a comprehensive set list of songs from their career-spanning years as they bring you the 'Road To Eden' tour.
TROY REDFERN
The free-spirited blues slide guitarist returns to the Brudenell as the main support for Dare. From a one-man to a three-piece band, I have had the pleasure to catch Troy in all of his guises. Tonight, Finn McAuley is his wingman on drums and the two-piece delivers a rip-roaring six-song set.
Taking to the stage, Troy and Finn get to work on opener Scorpio, a gritty number that fits the appearance of Redfern, who seems edgier than normal, maybe it's first-night nerves. Positioning himself to the left of the stage, Redfern is in the shadows compared to Finn who is nicely lit by the stage lights. The lighting is red for most of the set and for some reason it resonates with Troy's latest album artwork 'Wings Of Salvation.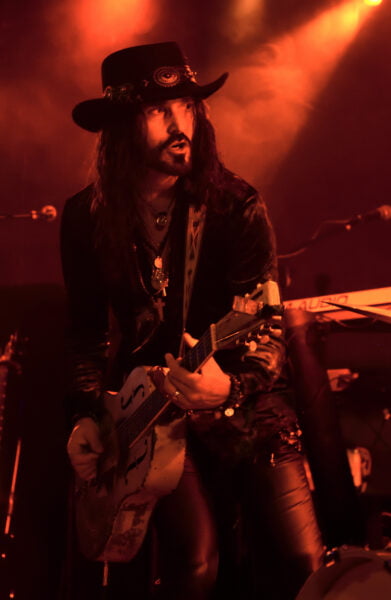 Wings of Salvation
Getting their first 'live' airing is a trio of songs from 'Wings of Salvation. Up first is the latest single Sweet Carolina, a pop-rock, drum-laden, (good job he brought Finn along) blues riff banger! Getting the fire burning on Come On, this sultry blues number showcases Redferns prowess on his trusty Resonator guitar. No bottleneck slides were injured during this one! The sea-shanty vibe of Dark Religion, pulls you in with its hypnotic vibe and is a prequel to The Line and Ghosts.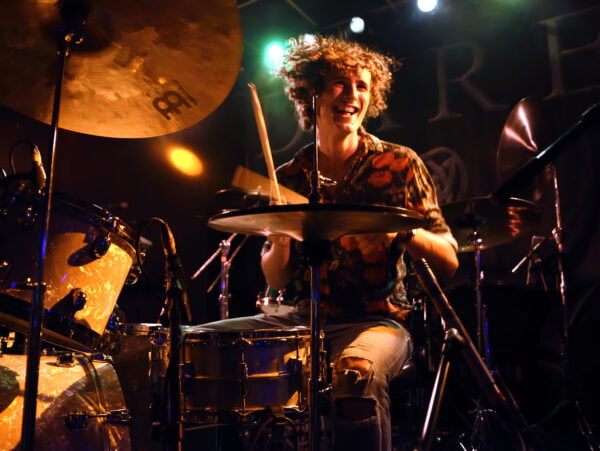 That's all folks! Closing the set with Sanctify, a ballsy-blues-infused rock and roll number. The crowd is having the best time and it's just a shame there wasn't time for any more.
Troy Redfern Set List
Scorpio
Sweet Carolina
Come On
Dark Religion
Waiting For Your Love
Sanctify
LINKS to Troy Redfern – https://troyredfern.com/ | https://www.facebook.com/TroyRedfern | https://www.youtube.com/user/TroyRed7
DARE
I'm going to start by saying that I've never seen Dare before tonight. I think they passed me by with their melodic hard-rock sound, as I was really into my LA Glam and classic rock bands back in the day. So it was a joy to finally appreciate Dare and to see them live!
Opening up with Born in the Storm, this is the first of four tracks off their new album 'Road To Eden'. Darren Wharton and his band are in great spirits, you can see their smiles from a mile away. Welcoming his audience, you can spot the die-hard fans, not just because they are singing along or are of a certain age; you can feel the warmth and see why Dare are enjoying longevity with such a loyal fan base.
There's an underlying Celtic feel on Cradle To The Grave and Until keeps the vibe going. Until is the first of four tracks from their acclaimed Scared Ground album they play tonight.
Darren Wharton is a great frontman, full of energy and passion for the songs he has written. Sharing little anecdotes before the next song is sung. Wharton asks the crowd 'have you ever met the most beautiful girl at a festival? 'Our next song Days of Summer is about that.' It's a lively rock ballad, with melding riffs and a vibe that whisks you away to days of summer-time.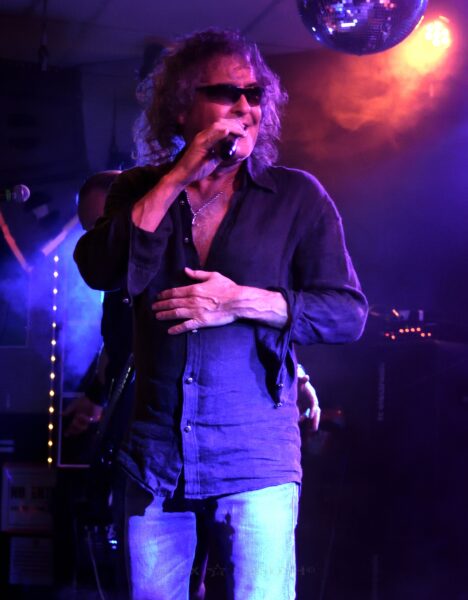 Every time We Say Goodbye
Paying homage to all our loved ones, Darren remembers the next song was difficult to write, as he wrote it after the passing of his father, and dedicates it to anyone who has lost a loved one. It's a beautiful song that shines bright.
Bringing up the tempo and the joviality, we are asked 'do we remember when Terry Wogan used to play what he wanted on his radio show?', well this next song is that one. With a backing track providing the sound of a waterfall, the thunderous strobe lighting on stage gives the thunder effect. Guitarist Vinny Burns provides the enticing riffs as the melody takes hold of its audience, there's a ginormous burst of applause as Darren rips into a Sea of Roses.
Tonight's show is something very special and even though there were a lot of memories and respects paid, it's with great joy that we remember the ones we've lost, including the late great Phil Lynott.
All guns a-blazing they close with the epic We Don't Need A Reason.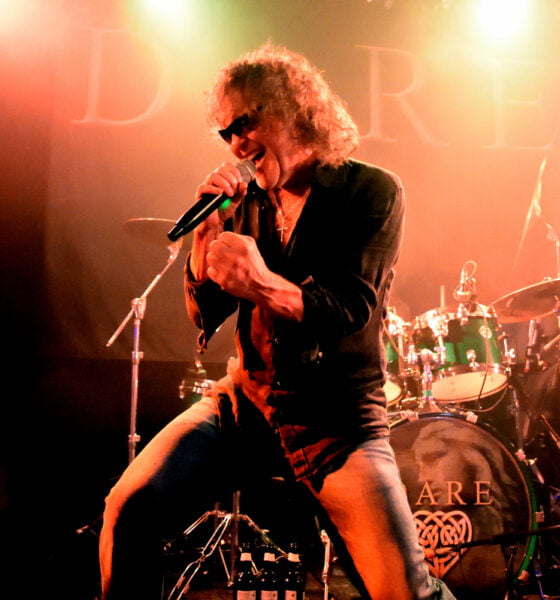 Encore: here comes the rain…dance
Surely that can't be it. Dare has played a massive 17 songs and we want more. The crowd is thirsty, and chants go across the room for them to return to the stage. And as they do…there's an echo from behind the stage, and banter teases about the rain and that it never rains in Wales!
Cue the band back to the stage for Raindance, this keyboard-infused melody gives its audience what it wants. Closing the set with Returning Heart the crowd favourite prompts a back-and-forth sing-along.
"Thank you all, we love you and goodbye"
Catch the second leg of the Dare tour here:
Bury St Edmunds, The Apex
Thursday 13th October 2022
Facebook | Twitter | Instagram
1 Charter Square Street, Bury Saint Edmunds, IP33 3FD
www.theapex.co.uk
Rescue Rooms, Nottingham
Friday 14th October 2022
Facebook | Twitter | Instagram
Masonic Place, Goldsmith Street, Nottingham, NG1 5LB
www.rescuerooms.com
Bilston, The Robin
Saturday 15th October 2022
Facebook | Twitter | Instagram
20 – 28 Mount Pleasant, Wolverhampton, Bilston, WV14 7LJ
www.therobin2.com
Shoreham Ropetackle, Brighton
Friday 21st October 2022
Facebook | Twitter | Instagram
Ropetackle Arts Centre, Shoreham-by-Sea, BN43 5EG
www.ropetacklecentre.co.uk
Southampton, 1865
Saturday 22nd October 2022
Facebook | Twitter
Brunswick Square, Southampton, SO14 3AR
www.the1865.com
Bristol, Fleece
Sunday 23rd October 2022
Facebook | Twitter | Instagram
12 St Thomas Street, Bristol, BS1 6JJ
www.thefleece.co.uk
London, O2 Academy Islington
Thursday 27th October 2022
Facebook | Twitter | Instagram
16 Parkfield Street, London, N1 0PS
www.academymusicgroup.com/o2academyislington
Manchester, Academy
Friday 28th October 2022
Facebook | Twitter | Instagram
Moss Lane East, Manchester, M14 4PX
www.manchesteracademy.net
Newbury, Arlington Arts Centre
Saturday 29th October 2022
Facebook | Twitter | Instagram
Mary Hare, Newbury, Berkshire, RG14 3BQ
www.arlington-arts.com
Dare Set List
Born in the Storm*
Cradle to the Grave*
Home ^
Until ^
Days Of Summer ^
I'll Hear You Pray ^
Road To Eden*
Every time We Say Good Bye –
Fire Never Fades*
Sea Of Roses**
Where Darkness Ends**
Wings of Fire ^^
Abandon –
Into The Fire $
Thy Kingdom Come*
King Of Spades/ Emerald – +
Don't Need a Reason ^^
– Encore
Raindance –
Return The Heart $
ALBUMS: *Road to Eden | | ^ Scared Ground | – Out Of Silence | **Beneath The Shining Water | ^^ Blood From Stone | $ The Power Of Nature | + Arc Of The Dawn |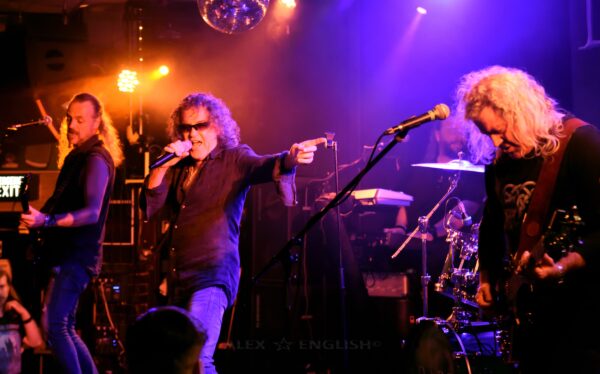 BAND LINE-UP

DARREN WHARTON – VOCALS, KEYBOARDS
VINNY BURNS – GUITARS
NIGEL CLUTTERBUCK – BASS GUITAR
KEV WHITEHEAD – DRUMS
MARC ROBERTS – KEYBOARDS
Connect with Dare: https://www.facebook.com/darebandofficial/ | https://www.darebandofficial.com/ | https://www.youtube.com/channel/UCILQARHwthtvyknkyAj1p6w