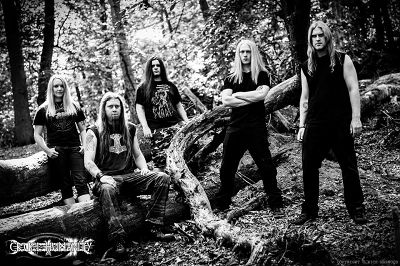 Cruel Humanity are set to play the New Blood Stage at this years Bloodstock festival on Friday the 9th August.
We catch up with the band to find out more about them, the festival, their thoughts and what you lucky Bloodstock go-er's will see!
Can you give the readers a quick introduction to the band?
Cruel Humanity is: Tom on guitar and vocals, Adam on guitar, Gav on bass, Dan on drums and Hayley on Keys.
How would you describe your sound?
We have many musical influences that come from Black, Death and Doom Metal. Our sound is a combination of aggression and melody; which generates a colossal sound and huge guitar/bass tones, crushing percussion with epic keyboard harmonies.
Why did you want to become part of the New Blood Stage line up?
We have all been going to Bloodstock for many years now and the line ups have always been amazing; so we jumped at the chance to compete in the Metal to the Masses competition and we are ecstatic that we will now get to share the stage with so many awesome bands at a festival that we love!
What was your initial reaction when you found out you were playing on the New Blood Stage?
We were staggered and elated. We all cheered and bought a round in. We are honoured to be special guests and alongside Line of Fire!
What can the audience expect from you at the festival?
Atmospheric, unpredictable, darkened metal you want to bang your head to!
What has been the bands biggest achievement so far?
10 years ago Cruel Humanity played at Bloodstock when it was a lot smaller indoor event. Bloodstock 2013 will be our biggest achievement so far without a doubt and with a bit of luck it won't be the last you have seen of us.
Have you ever been to Bloodstock before? If so when and what did you enjoy most about it?
Again we have all been to Bloodstock many times before! We love the bands, the unbridled mayhem, meeting up with friends that gather from all over the country, to consume copious amounts of alcohol and the chaos ensues.
Tom: The last Skyclad gig with Martyn walkier singing was a highlight for me.
Gav: Watain pretty much setting the entire stage on fire last year!
Dan: Getting my ass kicked in the Cannibal Corpse pit in 2010!
Hails: Dimmu Borgir back in 2008, I love them!
What is your opinion of the Bloodstock line-up?
The line up is always killer that's why the majority of us make it every year! We're looking forward to Slayer as they have always been a major influence of ours also Anthrax, Unfathomable ruination, White chapel, Belphegor, Whitechapel, Dark funeral, Hell, Beholder, Evil scarecrow and Line of fire. Without listing them all, there are tonnes of bands on this year that we want to see!
What are you looking forward to most at Bloodstock?
SSLLLLAAAYYYERRRR! Being surrounded by thousands of metalheads. Also when we play on the New Blood Stage and the VIP bar is a bonus!
Can you sum up Bloodstock in one sentence?
Bloodstock is an incredible festival ever growing year by year and it just keeps getting bigger and better!
Any message you wish to pass on to the PM readers
Come to the New Blood stage on Friday at 10.30 am to catch Cruel Humanity and we will wake you up! Bring on the debauchery! Thanks for reading!
Thank you for taking the time out to complete this interview, we are looking forward to seeing you at Bloodstock \m/ \m/
Links:
Facebook:  https://www.facebook.com/pages/Cruel-Humanity/111799998869534
Myspace: https://myspace.com/cruelhumanity