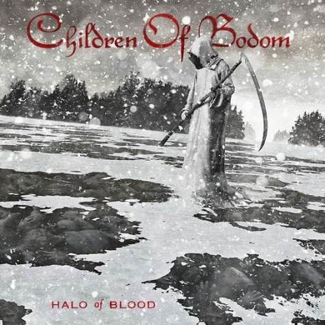 "Halo of Blood" is the 8th studio album by Finnish melodic death metallers, Children of Bodom.
'Waste of Skin' starts the newly released album with melody, catchy guitar work, typical chugging Children of Bodom riffs and signature keyboards. Before long the entrance of title track 'Halo of Blood' brings a black metal element to the album which came as a little surprise. Although this track slightly differs in style, it doesn't sit out of place among the tracks to follow. Admittedly, I was expecting 'Halo of Blood' to be the highlight of the album which left me quite skeptical about what was to come.
For those who lost faith in Children of Bodom after "Are You Dead Yet?", this album will definitely restore you hopes as I feel that it sits well with "Hatebreeder" – "Hate Crew Deathroll" era Children of Bodom.
With 'Halo of Blood' leaving me a little unsure of what was next to come I was pleasantly surprised by what was to follow. As the title track didn't particularly woo me, I was expecting the rest of the album to be mediocre and die down rather quickly. Much to my surprise, as the album progressed the songs began to resemble a more old school Children of Bodom sound that hasn't been as prominent on more recent releases.
The chaos of previous album, "Relentless Reckless Forever", is replaced with a mellower pace yet maintains brutality in "Halo of Blood", recapturing that signature sound. If artwork is anything to go by, single colour covers with a prominent Roy are always a good sign.
'Bodom Blue Moon' marks the half way (ish) point of the album with what is my personal favourite track of "Halo of Blood". This song hits every expectation target on the list with a nice balance of chugging, melody, lead and group vocals, keyboards and solos… The only thing this song lacks is a signature Alexi Laiho "YEEOW" but the entrance "HYEA" will do.
'Dead Man's Hand On You' completely changes the pace of the album, entering with clean acoustic-esque guitars, piano and a softer style of vocals from Laiho. It is by far the slowest and most experimental track on the album and the slowest of their entire catalogue. Although a good track in its own right, I feel that the placement among other songs breaks up the momentum.
After a short break from all the Children of Bodom goodness, we're soon reunited for a further three tracks. Penultimate track, 'All Twisted' is another personal highlight of "Halo of Blood", ticking all the boxes for a typical Children of Bodom track, and a very familiar sounding pre-chorus style.
41 amazing minutes later "Halo of Blood" came to an abrupt ending and left me quite astonished. As well as ticking all the boxes that define Children of Bodom, the album avoids being repetitive and introduces something a little different. Furthermore, I feel that fans of their earlier work will be satisfied without the album sounding like a copy.
"Halo of Blood" exceeds all my expectations and sets the bar with my personal album of the year so far.
Track list:
1. Waste of Skin
2. Halo of Blood
3. Scream For Silence
4. Transference
5. Bodom Blue Moon
6. Your Days Are Numbered
7. Dead Man's Hand On You
8. Damaged Beyond Repair
9. All Twisted
10. One Bottle and a Knee Deep
Children of Bodom are:
Alexi Laiho (guitars & vocals)
Jaska Raatikainen (drums)
Henkka Blacksmith (bass)
Janne Warman (keyboards)
Roope Latvala (guitars)
LINKS:
www.cobhc.com
www.facebook.com/childrenofbodom
twitter.com/cobhc
www.instagram.com/cobhc
www.youtube.com/cobofficial