CALLING ALL ASTRONAUTS craft goth and electro punk that pushes the borders of band and genre. The much-rated goth punks continue their surge with the release of their blistering new album #Resist, out Friday 5th June. The innovative trio will have just dropped the video for Welcome To The Black Bloc – https://youtu.be/i_rpUP5L5Vk . The single is officially released on Friday 29th May but you can pre-save or pre-order the single right now at – https://snd.click/WelcomeToTheBlackBloc and https://smarturl.it/CAA-BlackBloc .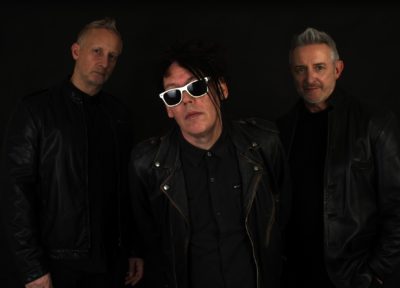 CALLING ALL ASTRONAUTS were originally born in 2013 and are comprised of David B (Vocals, Programming, Keys, Producing), Paul McCrudden (Bass, Guitar, Keys), and J Browning (Guitar). All three members from CALLING ALL ASTRONAUTS have rich experiences and adventures arching back from their time with seminal Rap-Metalers, US:UK. As US:UK they sold-out many established venues such as Koko, The Marquee, and the legendary London Astoria, and all of this was done as an unsigned band. US:UK also opened for such luminaries as Faith No More, 24/7 Spyz and Neds Atomic Dustin. After US:UK ran its course, J went on to form Pop-Punkers Caffeine, Paul joined Goth stalwarts The Marionettes, and David went into band management.
Fast forward to a chance meeting between J and David, and both were excited about making music again. They soon picked up where they left off and everything clicked, resulting in them releasing their debut album Post Modern Conspiracy in 2013. Paul McCrudden then entered the fray to reunite the three-piece as they set to work on their second album, Anti-Social Network, which was released in 2016. To date, the band have released ten singles, six EPs and two albums, and have had five #1's on Hype Machine's Twitter Music Chart, as well as having been featured by many radio stations worldwide. The electro punks have played esteemed festivals such as Kendal Calling, Guilfest, Beautiful Days, and have also opened for the likes of Pop Will Eat Itself and APTBS.
CALLING ALL ASTRONAUTS now continue their surge with their colossal new record, #Resist, that is potently relevant and immensely engulfing. This is an album that should certainly not be overlooked. Follow the band via their social media and stay tuned to their ever-prevalent manifesto.
||  You can pre-order the album, here – https://smarturl.it/CAA-Resist  ||
www.facebook.com/callingallastronauts |  www.twitter.com/caa_official
https://open.spotify.com/artist/0xqglBsPF9COYj64LNl85t   |   www.youtube.com/callingallastronauts