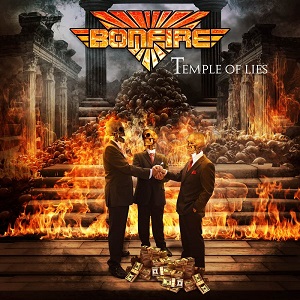 German rock band Bonfire have been around since 1986 (a decade or so longer if you count the band Cacumen which evolved into Bonfire), and over that time have released a steady stream of albums – by my count, this is their 15th studio album, but they've also released half a dozen live albums plus a number of compilations. Over the years they've had plenty of lineup changes, the most recent of which was when Alexx Stahl joined as their new singer in August 2016. After so many years with Claus Lessman on vocals (followed by a couple of short term vocalists), the band appear to have found a worthy replacement with Alexx Stahl – he's got a great voice, and Hans Ziller is certainly happy.
"We were extremely lucky to find Alexx," offers guitarist Hans Ziller in explanation of the group's current creative and musical high. "He's a team player who looks after his voice in a totally professional way and treats it like the important tool that it is. He doesn't smoke and prepares optimally for every show. In addition, Alexx is a really nice guy. Being at the helm of the band, I couldn't be happier to have him in the band." Ziller is just as enthusiastic about his rhythm section consisting of bassist Ronnie Parkes and drummer Tim Breideband ("they seem to have reinvented the groove"), and of course guitarist Frank Pané ("one of the most awesome musicians I've ever worked with"). Ziller: "With this line-up, we'll be able to increase the hardness level of our material whenever we feel like it. Numbers such as 'Temple Of Lies' and 'Stand Or Fall' wouldn't have been possible with previous line-ups."
It's a great album with a good mix of songs. You've got the power ballads – "Comin' home" and "I'll never be loved by you", heavier songs such as "Temple of lies", and some lighter songs. There are good catchy choruses too. It's an album that compared favourably against the band's previous few albums and shows a band firing on all cylinders.
Check out the video for "Crazy over you".
Bonfire fans will love this album – a definite return to form. If you haven't listened to Bonfire before then this is an album that's definitely worth a listen – it's a great rock album.
Track listing:
1. In the beginning
2. Temple of lies
3. On the wings of an angel
4. Feed the fire (like the bonfire)
5. Stand or fall
6. Comin' home
7. I'll never be loved by you
8. Fly away
9. Love the way you hate me
10. Crazy over you
11. Comin' home (extended acoustic version)
12. Friedensreich II – The return of the Zunsler into the T.O.L.