BLOODSTOCK's bill is still growing as the festival adds yet more bands to their 2018 line up!  With just 15 weeks to go, the countdown is on! What's more, our travel partners, BIG GREEN COACH have just added Cambridge and Norwich to their list of departure cities due to customer demand!  More details below. On to the bands…
We're excited to welcome hotly-tipped Texan thrash squad POWER TRIP to the Saturday main stage bill!  Having just wrapped on one of the best metal package tours of recent years with Trivium, Code Orange, and Venom Prison, POWER TRIP's incendiary live show is not to be missed!  Are they the future of modern thrash?! Check out their video for 'Executioner's Tax (Swing of the Axe)' taken from their 'Nightmare Logic' album, out now on Southern Lord and decide for yourself.
 In the wake of scorching reviews for their recent debut album 'Mire', sludge doom beasts CONJURER join us for a Saturday Sophie Lancaster stage slot.  Watch their 360 degree video for 'Retch' and get soaked in their sonic brutality.  Meanwhile, album bundles and 'Mire' merch can be snapped up from http://smarturl.it/CONJURER.
 Also landing a spot on Saturday's Sophie bill are British thrash/death outfit, FORGOTTEN REMAINS.  The five piece are set to release a new album this year.  In the interim, investigate their 2016 video for 'Morbid Reality' –
Progressive black metal collective, A FOREST OF STARS also join the Sophie bill on Saturday.   The band, who describe themselves as 'appointing a fusion of black metal, romanticism, the occult, psychedelia, folk and the improprieties of madness into one unsightly whole' (awesome!) are hard at work on a new album due later this year.  In the meantime, check out their fabulous video for 'Gatherer Of The Pure' –
 Grabbing a Sunday Sophie stage spot are hotly tipped trio, ALIEN WEAPONRY.  Hailing all the way from Waipu, New Zealand, they blend hardcore and thrash influences with their Maori heritage to create a sound uniquely their own.  Teenage brothers Henry and Lewis de Jong joined by Ethan Trembath on bass, the trio recently signed to Napalm Records and are readying their debut album, 'Tū' for release in June.  Check out the 'Holding My Breath' video for their first single to be sung entirely in English rather than their native Maori language –
Greek thrash beasts BIO-CANCER also grab themselves a slot on Sunday's Sophie stage.  The band are wrapping up the touring cycle for 2015's 'Tormenting The Innocent' album so catch them while you can!  Check out the video for 'Bulletproof', taken from that album here..
METAL 2 THE MASSES, our programme to support grass roots bands reaches its culmination this month with 31 Grand Finals kicking off regionally.  The first is in Coventry on the 28th April, then events roll out around the country. M2TM is the biggest initiative in UK & Ireland (not forgetting one-off cities in Norway and Poland) to choose the bands to play on our Newblood Stage.  The programme not only supports regional venues, but also gives local bands an opportunity to network and aspire to winning acts that have gone before them. As well as being in with a chance of playing this year's festival, there's a bigger national prize pool opportunity where selected winners will be chosen to open BLOODSTOCK's Sophie Stage in 2019, play a slot at Slovenia's Metaldays Festival 2019, win recording time at Parlour Studios with Russ Russell, along with a raft of additional sponsor prizes.  Attending punters aren't left out either, as they could walk away with a ticket to this year's festival or any number of free giveaways on the night. The Finals kick off at venues around the country very soon so be sure to get down and show support!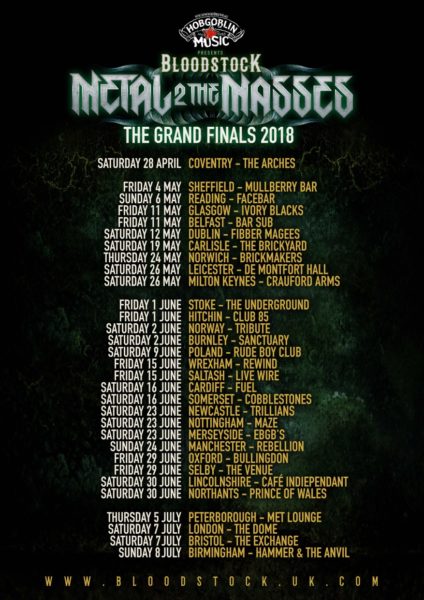 We're pleased to report that this year BLOODSTOCK is taking part in the 'Drastic on Plastic' campaign, a pledge we're supporting alongside 60 other independent festivals to try and rid festivals of non-recyclable plastics within the next 3 years.  As a festival catering to a large younger demographic, we've a duty of care to lead by example and promote the importance of not using plastic at festivals.  This year we're opting in to the 'Final Straw' initiative, ridding the festival of plastic straws, meaning none of our bars or retailers are permitted to use these on site.  Moving forward we aim to stop the use of single-use plastics on site by 2021, this will include plastic bar cups and drink bottles.
It is estimated that around 8.5 billion plastic straws are thrown away in the UK alone each year, adding further to the 150 million tonnes of plastic waste current floating around the Earth's oceans. The Ellen MacArthur Foundation predicts that by 2050 there will be more plastic items in the world's oceans than fish. Already each year around one million birds and 100,000 sea mammals die due to eating or becoming entangled in plasticwaste. Recently, the British government announced plans to ban the sale of plastic straws, drink stirrers, and plastic-stemmed cotton buds in England entirely.  The ban is part of the government's 25 year plan to eliminate avoidable plastic waste, and follows the mandatory 5p charge placed on single-use carrier bags in shops and the ban on plastic microbeads.  It's estimated that the UK uses 38.5 million plastic bottles a day, a shocking 91% of which are non-recyclable. Please support us in this endeavour by being more mindful of the single use plastics you bring on to site and perhaps think about purchasing reusable steel containers for your consumables.  Every little helps!
Thinking about your route to BLOODSTOCK yet?  Official travel partner BIG GREEN COACH are more than happy to transport you, your mates and all your camping essentials from 23 pick-up points all over the country to right inside the BLOODSTOCK gates, having just added Cambridge & Norwich due to customer demand!  For more details, watch https://youtu.be/wqT7Rt2B60E.  Alternatively, if you're driving to the festival and have a space in your car, or are seeking a ride from your area, post your trip on GOCARSHARE's website to match up with a friendly metaller and help each other ride to BLOODSTOCK!  You'll even be in with a chance of winning a pair of tickets to next year's festival just by using the GOCARSHARE scheme!  Full details over at http://gocarshare.com/festival/bloodstock.
 Come join us in August!  Standard weekend tickets are on sale now, priced at £145 for four days of metal fun.  Grab yours at https://bloodstock.seetickets.com.  If you already know you can only attend for one day, sign up for an email reminder so you don't miss out when single day tickets go on sale at the end of June.  Register your interest here – https://www.seetickets.com/register/bloodstock.
 With Friday night headliners JUDAS PRIEST, Saturday headliners GOJIRA and Sunday's bill toppers NIGHTWISH announced, as well as EMPEROR, AT THE GATES, DEVILDRIVER, WATAIN, SUICIDAL TENDENCIES, WEDNESDAY 13, JASTA & FRIENDS, FOZZY, COMBICHRIST, BLOODBATH, VENOM INC., MR BIG, ORPHANED LAND, KAMELOT, DORO, ORDEN OGAN, SEPTICFLESH, EXHORDER, PALLBEARER, MEMORIAM and many more, we're more excited than ever for BLOODSTOCK 2018!
 BLOODSTOCK will take place at Catton Park, Derbyshire on 9th-12th August 2018.  Get additional information at www.bloodstock.uk.com.