BLOODSTOCK FESTIVAL are excited to announce a whole batch of new additions for all three stages.  There's only seven weeks left to the most metal weekend of the year!!  Have you got your tickets yet?!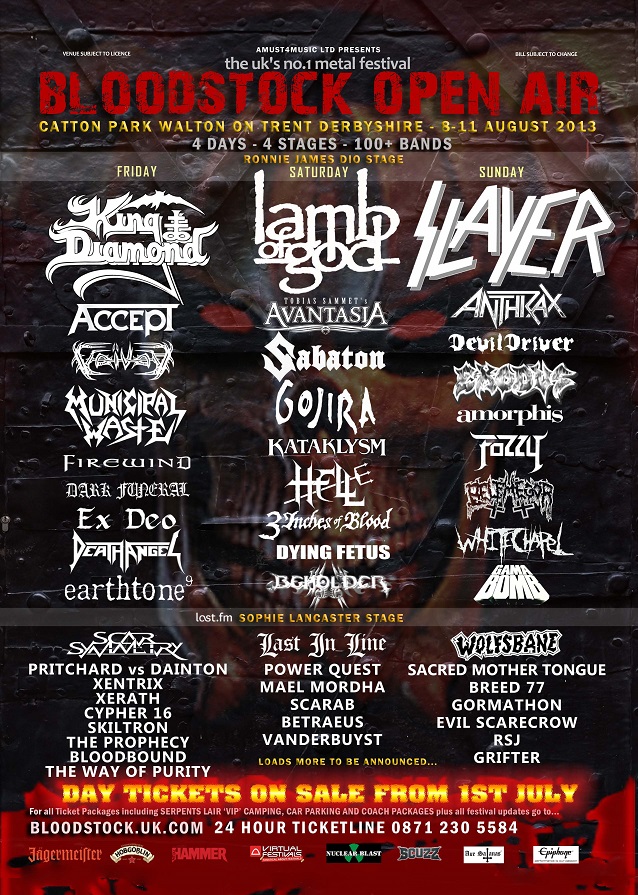 Opening Friday's main stage, and fresh off the back of the release of 'IV', their first album in ten years, are British post metallers, EARTHTONE 9.  The band are stoked to find their way to Catton Park's hallowed ground, commenting "Earthtone 9 have never played Bloodstock, so we could not be more excited!  It's one of our only gigs this year, so we are truly going to make the most of it. There may well be some drinking!"  You can pick up a free download of their single,'Horizon's End' at this link; http://www.pledgemusic.com/widgets/4136.
On Sunday's Sophie Lancaster stage, SACRED MOTHER TONGUE get added.  Having received huge plaudits for their second album, 'Out of the Darkness', and live shows, the Northampton based band are building quite the name for themselves.
Check out the video for 'A Light Will Shine', here: https://www.youtube.com/watch?v=BGY1bUEW1mc.
Also added to the Sunday Sophie stage line up are relentless road dogs, BREED 77. Bound to deliver a pummeling performance, these energetic Gibraltan bruisers are sure to bust out some new tunes from their latest album 'The Evil Inside', which was released in March.
You can watch the video for recent single 'Bring On The Rain' at: http://www.youtube.com/watch?v=PIx-T1iWNYI.
A whole raft of acts are also set to grace the JAGERMEISTER stage.  The stage is perfectly placed in the main arena with massive passing crowd pull due to its placement, and time slots are arranged to capitalize on main stage changeovers.  Performances show a different side to the artists' repertoire, offering up new and old material with many venturing into cover version territory.  Friday's bill includes solo artist MITCHELL EMMS, medieval metallers RAVENAGE and 80's-styled newcomer, MIA KLOSE (check out her Bloodstock clip here: http://youtu.be/i1Z7cPCaT-k).
Saturday's line up rolls out the inimitable EARLS OF MARS, Stoke on Trent aggressors BALLS DEEP, and rowdy riffmeisters CAVORTS, while Sunday's features prog death metallers BETRAEUS, Sacred Mother Tongue's shredmaster ANDY JAMES's GUITAR CLINIC, and the self-proclaimed "progressive epic"outfit, OPERATION ERROR.
BLOODSTOCK tickets are on sale now, priced £125 (plus booking fee) for a weekend pass with camping.  VIP ticket packages and upgrades are also available.  Look up all the info on BLOODSTOCK 2013 so far, plus all kinds of cool coverage from 2012's event over at www.bloodstock.uk.com or www.facebook.com/bloodstock.
BLOODSTOCK takes place at Catton Park in Derbyshire on 8-11th Aug 2013 and features SLAYER, LAMB OF GOD, KING DIAMOND, ANTHRAX, DEVILDRIVER, GOJIRA, AVANTASIA, EXODUS, DEATH ANGEL, MUNICIPAL WASTE, VOIVOD, WHITECHAPEL, 3 INCHES OF BLOOD, GAMA BOMB and many more.
For travel options to the festival, including details of coaches from all over the country with Big Green Coach, the GoCarShare scheme, and shuttles from local train stations, visit: http://www.bloodstock.uk.com/pages/travel-info.