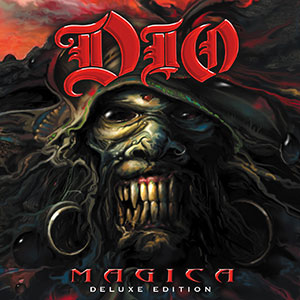 Originally released via Spitfire Records on March 21st 2000,Magica is the latest Dio solo album to get the re-master treatment,this time via Niji Entertainment Group on June 25th 2013 and is eagerly awaited as the original release has been out of print for many years. The original sold over 100,000 copies worldwide and marked the welcome return of guitarist Craig Goldy. Magica was  a very poignant release,as being a concept album, 2 follow ups were planned by Ronnie after he had finished touring with Heaven And Hell but sadly his death on May 26th 2010 curtailed his dream.
Magica will now be available as a 2xCD deluxe edition with a booklet which will include the original Magica tour dates with notes written by renowned journalist Mick Wall,a set list,a bonus insert which includes the Magica story and a postcard of Ronnie James Dio. Magica is a concept album depicting the constant struggle between good and evil and I think it is one of Ronnie's darker,heavier solo albums with Craig delivering some riffs that would have Tony Iommi looking over his shoulder! Magica was originally produced by Ronnie and the new re-mastering duties were handled by Wyn Davis.
At the end of the original release there was an 18 minute spoken word piece by Ronnie telling the tale of the album but on the re-master it is at the beginning of the bonus CD along with a breathtaking guitar led instrumental to rival Joe Satriani called Annica which was only previously available as a Japanese only bonus track. Another gem is Electra,a 6 minute long slab of classic rock with swathes of synth and a pleading vocal delivery by Ronnie. Electra is the only recorded track for Magica 2 and 3. The remainder of the bonus CD is taken by 5 live Magica tracks. 3 of which are from a live bootleg and 2 from the Roseland Ballroom,New York between 2000 and 2001. In a live setting the songs are more raw and heavy than their studio counterparts.
So onto the main album and Magica has many twists and turns throughout its 13 tracks as it runs through a gamut of emotions in its hour long length from the robotic spoken word  intro of Discovery  to album closer Lord Of The Last Day (reprise). It is hard to choose personal highlights as the album is flawless but tracks i go back to are Lord Of The Last Day. Craig keeps it simple on this one with some doomy guitar work with atmospheric synths from Scott Warren over an eerie vocal. Track of the album is by far Fever Dreams with an instantly memorable guitar hook similar to Sunset Superman from Dio's album Dream Evil and has a fast,fluid guitar solo that appears from nowhere.
Feed My Head is another track with a heavy but catchy riff which the chorus takes its cue from. Eriel,which is the name of the main character in Magica  runs along on a Holy Diver type groove following a classical music intro. Challis has one of Craig's heaviest riffs,reminiscent of Ted Nugent's Cat Scratch Fever with Ronnie's most aggressive vocal on the album. The mood changes for the stunning As Long As Its Not About Love. Ronnie's voice soars in after a slow,shimmering guitar intro. The main riff kicks in about a third of the way in of the 6 minute song's duration with a short,sharp guitar solo midway.
The next 2 tracks,Losing My Insanity and Otherworld have a Led Zeppelin feel to them. Losing My Insanity has a tempo like Over The Hills And Far Away with it's minstrel intro led by pan pipes which feature at the end of the song as they join the outro riff which is taken on by an acoustic guitar and Otherworld is as majestic as Kashmir,a huge track to say the least!
Magica is definitely worth discovering. A lost gem finally sees the light of day once more!
Magica recording band line up :-
Ronnie James Dio – Vocals/Keyboards.
Craig Goldy – Guitars/Keyboards.
Jimmy Bain – Bass guitar.
Simon Wright – Drums.                                                                                                                                                                     
Scott Warren – Keyboards.
Magica track listing :-
CD 1 :-
Discovery.
Magica Theme.
Lord Of The Last Day.
Fever Dreams.
Turn To Stone.
Feed My Head.
Eriel.
Challis.
As Long As Its Not About Love.
Losing My Insanity.
Otherworld.
Magica (reprise).
Lord Of The Last Day (reprise).
CD 2 :-
Magica story (Narrated by Ronnie James Dio).
Annica. (Japanese only bonus track).
Electra. (Recorded f0r Magica 2 and 3).
Feed My Head. (Official live bootleg).
Fever Dreams. (Roseland Ballroom,New York).
Lord Of The Last Day. (Roseland Ballroom,New York).
As Long As It's Not About Love. (Official Live Bootleg).
Losing My Insanity. (Official Live Bootleg).