It's all systems go for BLOODSTOCK 2015 over at festival HQ.  No rest for the wicked!  As well as the recently announced Saturday night headliners, WITHIN TEMPTATION and special guests, OPETH, more bands are getting locked in for August 2015.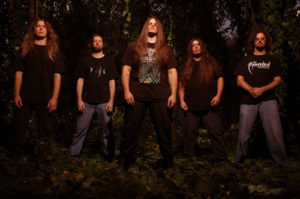 Following Emperor's triumphant headlining set at BLOODSTOCK this year, Emperor frontman IHSAHN brings his solo project to Catton Park as a one-off, UK exclusive.  IHSAHN comments, "At this year's BLOODSTOCK I had the great pleasure of finishing off our 20th Anniversary Tour of 'In The Nightside Eclipse', and next year, I am really looking forward to returning with a whole new IHSAHN set.  Nostalgic. Contemporary. I get to do both!  See you all there!"
Another UK exclusive show comes from legendary death metallers CANNIBAL CORPSE. The band comment;  "We are proud to announce we will be playing BLOODSTOCK 2015!  We wanna see all you sick fans there.  This will be our only UK festival show for all of 2015. Nowhere better to celebrate metal than at BLOODSTOCK. Be there."  Check out 'Sadistic Embodiment', a cut from their brutal brand new album 'A Skeletal Domain' over at: http://www.metalblade.com/cannibalcorpse.  Want more Corpse?  Delve into their two decade plus history in the band's recently published official biography, 'Bible Of Butchery', written by Bass Guitar Magazine editor, Joel McIver.
Brazil's metal kings, the mighty SEPULTURA also make a return to Catton Park.  Guitarist Andreas Kisser comments: "We are very happy to come to the UK's Bloodstock Festival again!  We had one of the best experiences last time and we cannot wait to bring the songs from the Mediator live!  See you all soon!! DESTROY!!!"  The band released their thirteenth album, 'The Mediator Between The Head And Hands Must Be The Heart', through Nuclear Blast last October.  The album was acclaimed as some of their 'finest work' to date.  Not bad for a band with a career spanning three decades!
Watch them corrupting priests in the video for 'The Vatican' here:
https://www.youtube.com/watch?v=SSqYDgT-ykg.
Want an easy way of getting to the site next year?  The Big Green Coach packages have now launched.  Big Green Coach are the official and exclusive coach travel partner to BLOODSTOCK.  Sit back, relax, and let their drivers take you, your mates, and your camping gear direct to the festival grounds!  Choose from 26 locations direct to Catton Park, from £37 upwards: BIRKENHEAD, BOURNEMOUTH, BRIDGEND, BRISTOL, CARDIFF, CARLISLE, CHESTER, GLASGOW, GLOUCESTER, LANCASTER, LEEDS, LIVERPOOL, LONDON, MANCHESTER, MIDDLESBROUGH, NEWCASTLE, NEWPORT, OXFORD, PRESTON, SHEFFIELD, SOUTHAMPTON, STOCKPORT, SUNDERLAND, SWANSEA, WARRINGTON and WORCESTER.  To guarantee your return seat, click here: http://www.biggreencoach.co.uk/events/bloodstock-festival-tickets-coach-travel
An ever-diminishing, limited number of early bird weekend tickets with camping are on sale now, priced £120 (plus booking fee) CLICK HERE. When they're gone, they're gone so grab yours now!  Campervan pitches are also already on sale and these move very quickly, so pick yours up ASAP to avoid disappointment.
BLOODSTOCK will be held at Catton Park, Derbyshire on 6th-9th August 2015. 
Keep up to date with the very latest info on BLOODSTOCK's official sites at www.facebook.com/bloodstock and www.bloodstock.uk.com.