Blood Feast are a five-piece thrash unit from New Jersey, USA. 'Chopped, Sliced And Diced is their 8th release since (incredibly) 1987. They have released three full length albums in their 31 year career, and this will be their second EP release. The band split up originally in 1991. They then played a one-off show at the March Metal Meltdown in Asbury Park, New Jersey, USA in 1999 and then reformed in 2007 and have been together since, releasing a full length album (The Future State Of Wicked) and now 'Chopped, Sliced And Diced'. If your a fan of Slayer, Exodus etc.. then this album is for you.
All songs here are a great indication of late 80's Slayer and Exodus. I'm sure most of you won't remember a band called The Gorilla Biscuits, well throw them into the pot as well and you get Blood Feast. Production-wise it's great the way both guitars come through separate speakers. I've always loved that in mixing.
Song-wise it's nothing we haven't heard before to be honest but don't let that put you off buying this EP. The songs are well written and very tight. Like I said, these could be Slayer's little brother. The superbly titled 'Chopping Block Blues' is the highlight for me on this EP as it gallops itself towards two bonus tracks only available on CD & Tape, the second of which is a live track called 'By The Slice'. The production on this is superb and I can't help thinking that the whole EP could have benefited from this kind of mixing. But that's me being picky.
I enjoyed this EP and I'm sure you guys will too. Have a listen!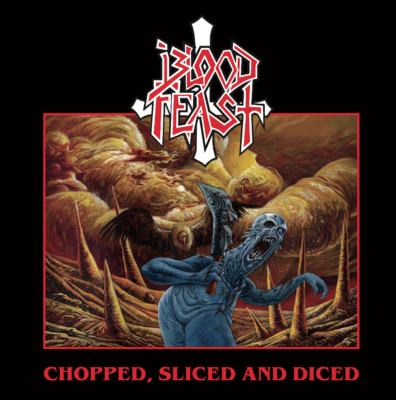 Track Listing:
1 – Concubine
2 – Hunted, Stalked And Slain
3 – Darkside
4 – Chopping Block Blues
5 – Chemically Imbalanced – (CD/Tape Bonus Track)
6 – By The Slice (Live) – (CD/Tape Bonus Track)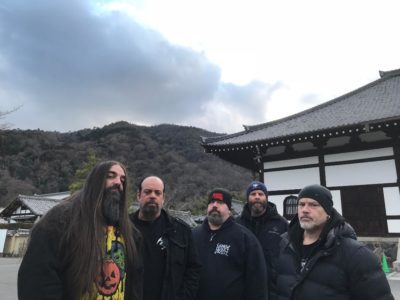 Line-up:
Chris Natalini – Vocals
Adam Tranquilli – Guitars
CJ Scioscia – Guitars
Tom Loranzo – Bass
Adam Kieffer – Drums
Fans of Slayer, Exodus and the like will love this.