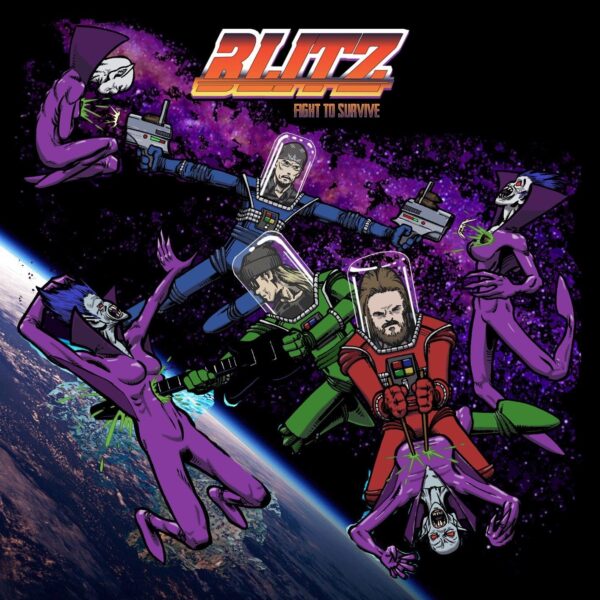 It's not very often I use the phrase "Riff after riff after motherfu**ing riff" but this Nottingham based trio called BlitZ, formed in 2015 have easily garnered that accolade with their second studio album, the stadium rock of Fight To Survive.
'One In A Million' is a ballistic opener and the second song to be taken as a single from the album. It packs a punch with its ballsy main riff and the tasty fills that beef up the sugar sweet choruses. The call to arms lyrics are delivered with a chest beating growl from Stuart Corden. As if it was not intense enough, add a wah-wah guitar solo from Kevin Simpson and body blow drumming from Mat Davis! Oh, and there are plenty of "Woah oh oh's" thrown in for good measure.
A NWOBHM vibe flows through 'Blood Brothers'. A brick heavy main riff pummels it along, as does seismic kick drumming in the metal as fuck instrumental midsection .
Another attention grabbing riff comes from 'Waiting For A Miracle'. It heads off into a melodic headbang, chock full of choruses that are catchier than an STD.
The only damage done from 'Damage Is Done' is from the AC/DC tinged dynamics that rattled my headphones. A calm before the storm midsection will surely be a bona fide crowd pleaser.
'Breaking Out', first single released here has pop punk melodies but plenty of power to keep the headbangers happy as the snare driven outro hits hard.
'Fight To Survive' is the halfway mark so is it a filler after the quality that precedes it? Hell no as the song lives up to its title. It's all gritty hard rock that takes no prisoners and the massive choruses up the heaviness ante.
'Party Time' puts rock and raunch on the bar tab. It brings a Sunset Strip vibe to Nottingham and the power chords are the real deal.
'99 Ways' is speaker rattling boogie. Riffs jab like a prize fighter and the shout em out loud and proud choruses are tongue in cheek, befitting the songs subject matter.
Lush piano opens and closes 'Never Surrender'. It's an uplifting song of hope in the lyrics, feel good rhythms and an adrenaline rush comes from the heart worn on sleeve vocal delivery.
'Dance On Fire' bounces along more than Tigger on steroids. It's a real get down and dirty hip shaker.
The album ends on a glorious high with 'Rock Show'. With all the shit that's going on now it's a song to lift the lockdown blues. The lyrics reflect how much a big deal live music means to us, it's just a shame that our government don't see it to! This last song here is an encore to end all encores so crank it up and scream at the top of your voices, "Is rock and roll dead? Shout, hell no take me back to the rock and roll show. Get your hands in the air, wild animals roar, take me back to the rock and roll show!"
Links to the band can be found below :-
BlitZ band line up :-
Stuart Corden – Lead vocals/bass guitar.
Kevin Simpson – Guitar/backing vocals.
Mat Davis – Drums.
Fight To Survive album track listing :-
One In A Million.
Blood Brothers.
Waiting For A Miracle.
Damage Is Done.
Breaking Out.
Fight To Survive.
Party Time.
99 Ways.
Never Surrender.
Dance On Fire.
Rock Show.
BlitZ literally blitzkrieg their way through these 11 songs.